The web is packed with interesting investing content. This ranges from topic blogs, online definitions and full-blown course. This article will explore some of best free online investing courses available today.
The criteria for best free investing courses
To appear in this list and get the chance to be selected as one of the best free online investing courses:
Content must be a course, curated with a linear structure.
Courses must be available in their entirety online. No printed materials or textbooks should be required to complete it.
The course must be completely free. Websites offering a combination of free and premium courses can ask request that I consider their free courses.
Naturally, we had to pass on many free investment training courses to cut down this list to just five. There are other exceptional courses out there ready to be discovered.
The best free investing courses:
This is a live ranking which is kept under continuous review. If you'd like me to consider a course I haven't listed, please get in touch.
Finance Fundamentals: Investment Theory and Practice (Futurelearn.com) – 12 hours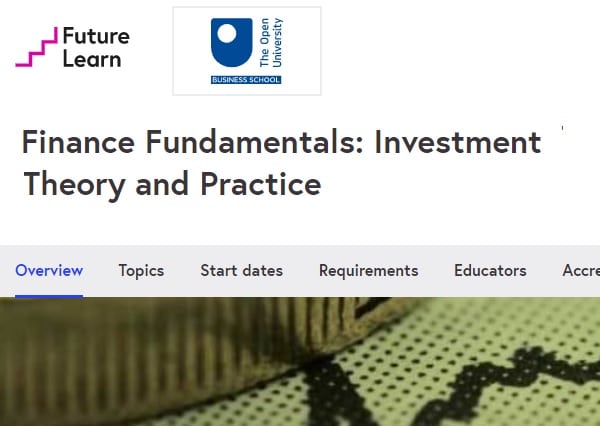 The content was developed by Open University; the UK's largest online education provider. This EOCCS accredited course runs several times each year and is designed to be completed over 4 weeks with 3 hours of study per week.
Futurelearn.com offers this course for free to new members, but access is restricted to six weeks. Ongoing access to this course costs £59, and unlimited access to a range of courses on the site requires a £199 annual subscription at the time of writing.
Managing my Investments (Open University) – 24 hours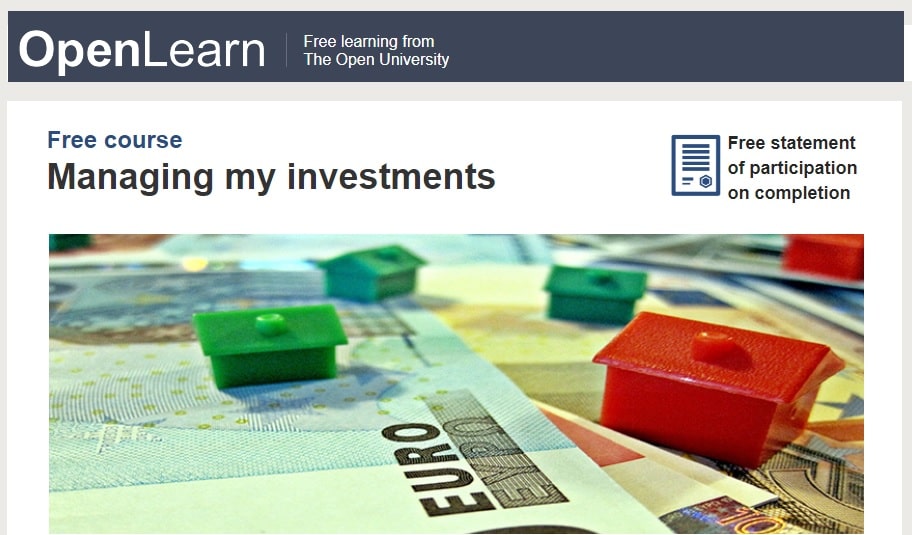 Managing my investments is a course available for free directly from the Open University. The content is designed to take 24 hours, although in practice I suspect that fast learners may breeze through the basic content in less than 10.
Managing my investments is one of the best free investing courses because it's instantly accessible (no sign-up required), and uses a combination of media including engaging videos to teach the basics of investing. Those looking for more advanced tips and theory will be disappointed.
I'm particularly fond of the way the course sets the scene by describing the current public attitude towards buying in shares before it introduces students to the practical and theoretical investing concepts.
Retirement Savings Made Easy (Vanguard.com) – 1 hour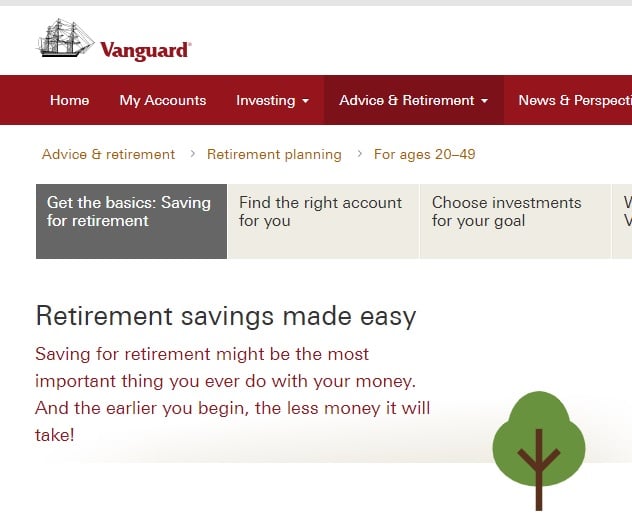 Hidden away within the main Vanguard website is an 'Advice and retirement' education section which contains some hidden gems.
'Get the basics' is like a free online course, which I consider to be one of the best because of its professional content, and simple, concise language. Simply put, the creators of this content spent a lot of time editing and cutting to arrive at a very efficient educational tool.
The content covers answers to questions such as:
Why should I save for retirement?
How much do I need to save for retirement?
Which account type should I choose?
The third question is important for beginners, but I'll caveat here that unlike the other courses included in this ranking, Vanguard itself is the provider of an investment platform. Therefore its content is designed to steer you towards opening an investment account with them, and it is therefore not the most impartial source of educational content!
I don't mind that approach because I personally invest with Vanguard. It, therefore, goes without saying that I don't feel that their accounts are a bad recommendation.
Financial Markets 2011 (Open Yale) – 24 hours plus study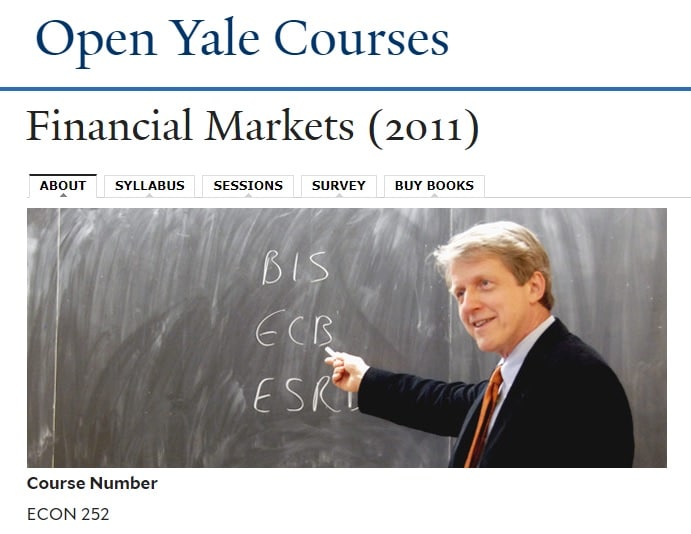 If you're looking for a substantial investing course taught by a world-renowned professor, try the series of 23 lectures available from Yale University via their online project Open Yale.
Professor Shiller is a highly respected economist. His name appears in well-known price indexes and financial ratios such as the Shiller PE ratio.
This is one of the best free investing courses because it places you in the audience of an entire University module about the financial markets.
Students can simply watch the lectures back-to-back, however, you may feel 'left behind' without performing further reading and revising content between lectures.
Being a world-class lecture at an Ivy-league University, assumed knowledge is high and the pace of the course is swift. However, if you're a bright spark who didn't have the opportunity to study a topic like this at University, you might feel right at home with this advanced course.
The Foundation Course (Financial-Expert.co.uk) – 4 hours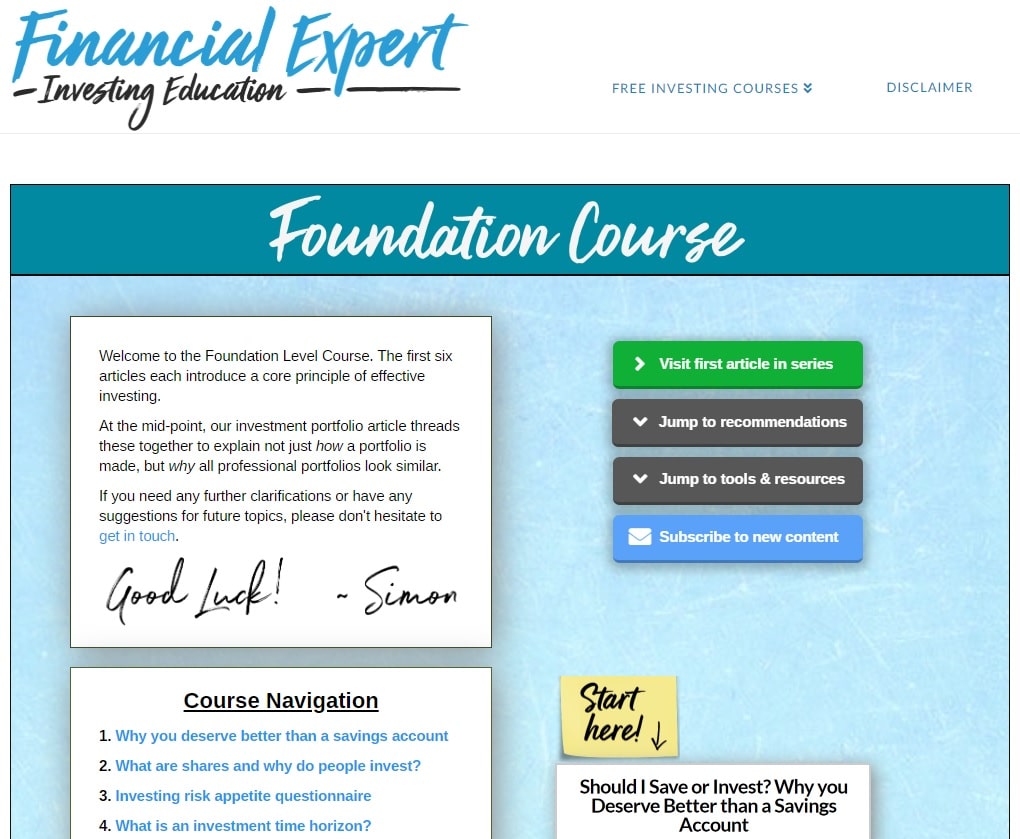 Of course, I would be a fool if I didn't use this opportunity to promote the free investing course available on this website, including the foundation course designed for investing newbies.
The course takes the form of 12 core articles with optional supplementary content. I've layered the articles in a way that gradually introduces new concepts such as:
I assume zero prior knowledge and will increase your investing confidence whilst sharing common-sense tips and academic theories which guides the way professionals manage investment portfolios.