As promised, here's my long-awaited review of the Nutmeg investment platform which has taken the stockbroker and fund management industry by storm. This Nutmeg broker review will help you decide whether starting a Nutmeg account could help you reach your investment goals, and how you can grab a sign-up bonus when you join through Financial Expert.
Nutmeg review: sign-up offer
Right now, if you sign-up to Nutmeg through this link, you'll enjoy zero investing fees for your first 6 months. That's 6 months of investment expertise at your disposal for £0. T&Cs may change.
Read on to understand why this is such a valuable offer.
What is Nutmeg?
Nutmeg is the cute name for a UK-based investment platform.
You transfer cash into your account, create a 'pot' with a savings goal attached, and Nutmeg will invest this pot according to your time horizon and risk tolerance.
Nutmeg is known as a robo-adviser, because it completely automates the process of building an investment portfolio. It's hands-free investing, allowing you to maximise the return on your money while sacrificing none of your time.
Clickity click, and you now have a fully diversified and ethical portfolio of shares and bonds. Just like that.
Nutmeg shouldn't be confused with a financial adviser, who will review your personal financial situation and recommend an investment plan. That being said, a robo-adviser allows you to choose a plan for yourself which is more likely to be appropriate than going it alone.
Using Nutmeg, you can become a proper investor in the stock market within just 5 minutes of signing up.
How does Nutmeg invest my money?
Nutmeg will invest your fund in a portfolio according to the time horizon you plan to invest for, and your attitude towards risk.
You can also elect to have your fund more actively managed (by humans), or more skewed towards socially responsible companies.
Investments in Nutmeg don't need to be high risk. Nutmeg allows you to keep money in cash for as long as you like, or you can choose one of the lower risk portfolio options such as the following which invests primarily in bonds: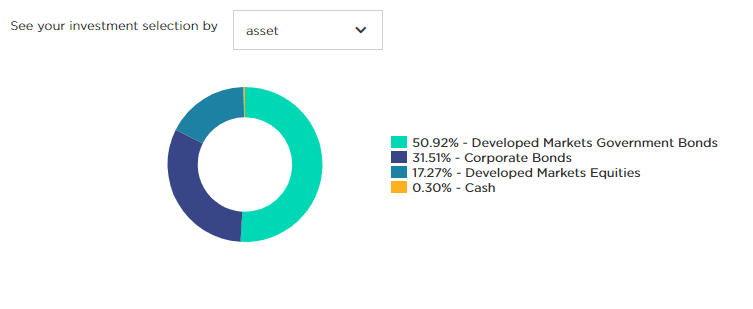 What returns will I see from Nutmeg?
Like any investment in the financial markets, returns are not guaranteed.
You can be sure that a higher risk profile will lead to higher expected returns, but ultimately the real return will depend on many unpredictable factors.
This is why your time commitment is important. The longer you can commit to a stock market investment, the more certain you can be that the long-run returns will match the expectation.
Nutmeg review: Can you trade stocks and shares with Nutmeg?
Nutmeg is a collective investment scheme and you cannot pick individual companies to invest in.
This is actually part of the beauty of Nutmeg – it lets you set the high level objectives, and the investment team looks after the details.
However, you can 'play the market' by switching between portfolios. Choose a higher risk portfolio when you feel the conditions are favourable for stocks, and switch to low-risk when you anticipate a stock market crash.
You can see below, where I switched to a lower-risk portfolio option to lock-in the gains after a stock market rally: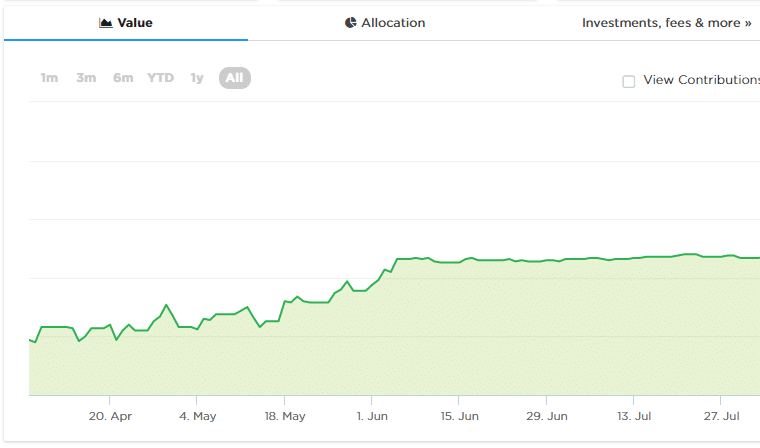 I recommend that you just sit back and let your diversified portfolio look after itself. After all, many studies have shown that retail investors commonly lose money rather than gain it, by trading too frequently.
By keeping you out of the picture, an platform like Nutmeg encourages you to take a back seat and avoid hampering your long term returns by trading.
How much does Nutmeg cost?
Like any investment platform, Nutmeg charges a fee to manage your money. This is fully explained and you won't find hidden charges eating away at your funds.
Take a look at the fees Nutmeg charges on money held in the account, depending on the ethical stance and level of active management you desire: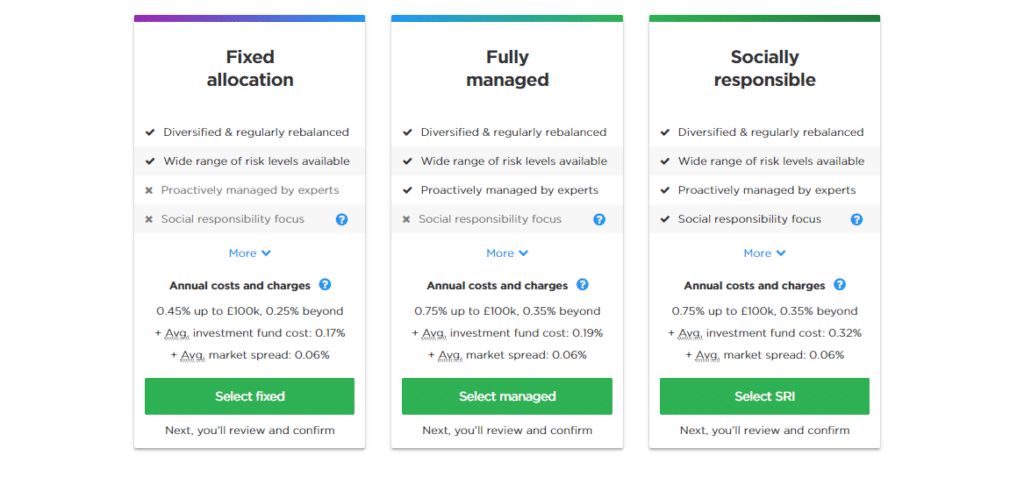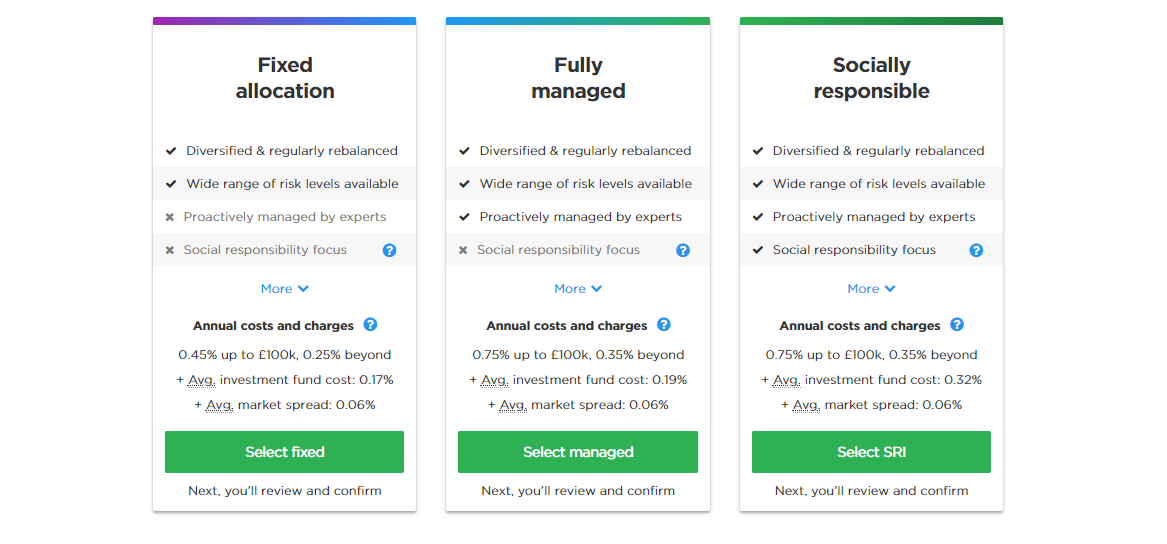 As you can see from the above, the lowest annual charge is 0.45% for the fixed allocation option (my favourite), plus 0.2% in other fees.
This is a total fee of 0.65% which frankly, is cheaper than the management fee of many individual mutual funds, which you would have invested in anyway!
Nutmeg Review: Exciting and Simple
My verdict is that Nutmeg is an excellent way for beginners to access the stock market. For a low fee, this clean and clear interface will whisk your money into a diversified and sensible portfolio in fewer minutes that it takes to cook a meal.
Certainly worth a look.
Again, if you sign-up to Nutmeg through this link, you'll enjoy zero investing fees for your first 6 months.
That's zero pennies spent, to tap into the stock market through a diversified portfolio. A great deal.