Becoming a financial adviser is a very rewarding experience. A financial planning career can provide you with a rich and varied experience that you would expect from a highly professionalised role.
The reputation and recognition of advisers is also improving all the time.
However, the route to becoming a financial adviser changed dramatically after the financial crisis of 2009.
The financial services regulator, the FCA, safeguards the reputation of the industry and improves professional standards.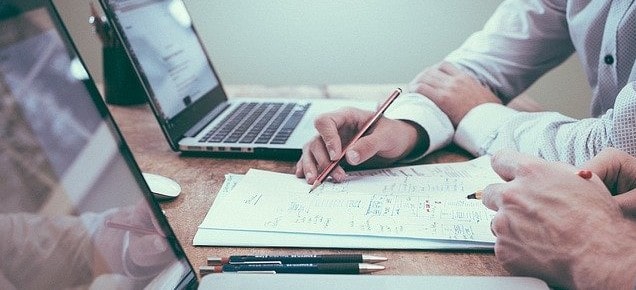 The Retail Distribution Review (RDR) carried out by the FCA's predecessor (the FSA) produced several changes, such as increasing the minimum qualifications held by financial advisers in the UK.
Since then, students in the financial advice field have needed to keep their heads in investing books for much longer before they achieve the status of being a qualified financial adviser.
Steps to becoming a financial adviser: overview
1. Network with financial advisers at careers fairs to understand more about the job to understand whether this career is a good fit for your individual strengths.
2. Take a low-cost and online investment course to build up a reasonable knowledge of investing. There are two reasons why this works:
You can utilise this knowledge in your job interview to demonstrate a keenness to learn, and a passion for the industry. This will increase your attractiveness as a candidate and increase your chances of making this career path a reality.
The path to qualifying as an adviser will include many courses as part of a formal qualification. Therefore think of this as a low-risk trial to understand whether you enjoy this enough to commit to this pursuit for several years.
The good news is that good online investing courses don't cost more than £199. Take a look at courses we recommend on our investing courses comparison page.
Alternatively, take a look at my personal pick for anyone interested in becoming a financial adviser below:
---
Taught by ex-Goldman Sachs employee Chris Haroun
---
This bestselling investing course on the Udemy course platform teaches students about investing from scratch without the need for dense theoretical content. This course is featured on the basis of its high rating of 4.5/5 from 20,000 reviews. That's a lot of satisfied students!
---
The practical content covers how to pick stocks & shares, how to manage a portfolio and manage risk, among countless other investing other topics. You'll also get an inside view on the roles of traders, banks and other market players.
---
Course teacher Chris Haroun is an award winning professor, former Goldman, hedge fund founder, and TEDx Talk speaker, who teaches from his real-life experience.
You've already got the lowest price available online for this great value Udemy course.
Successfully getting a job is the most difficult part of making this career a reality. So it's worth investing in a course to add something tangible and relevant to your CV to make you stand out as a candidate.
3. Carefully choose potential employers. As you'll see later on in this article, the type of company you join which impact the type of financial adviser you will become.
4. Get interview experience online. I like this list of mock questions created by Rachelle Enns and others on MockQuestions.com.
5. Join an employer and sign a training contract for a qualifying level 4 qualification. Training and taking exams is an essential part of studying to become a qualified financial adviser. Below, we'll list some examples of qualifications you may take to gain designation as a certified financial planner or chartered financial planner.
How to become a financial adviser: qualifications
The RDR regulations specify that all UK financial advisers need to hold a QCF (Qualifications and Credit Framework) approved Level 4 qualification.
As a rough guide, Level 4 is apparently equivalent to a first-year at degree level. From personal experience, I found this to be true.
Qualifying level 4 qualifications
Diploma in Regulated Financial Planning (DipPFS®) – Chartered Insurance Institute.
Diploma For Financial Advisers (DipFA®) – IFS School of Finance (DipFA®)
Investment Advice Advice Diploma – Chartered Institute for Securities & Investment
This is not an exhaustive list.
Diplomas which meet the RDR rules contain over 200 hours of estimated study time. This translates to a few months of solid study, or a year or two at a more leisurely pace which could fit around a full-time job.
The CII reports that the majority of their members complete the diploma within 18 months.
Your required study time will vary greatly depending on your ability to absorb and retain information. Financial advice diplomas don't contain many challenging concepts but have a large volume of information that needs to be memorised to a comfortable degree.
Do I need to qualify before applying for a financial adviser role?
The simple answer is no, you don't. However, qualifying at your own expense will demonstrate enthusiasm on your part, reduce training costs for a potential employer, and will make you a more attractive candidate.
That being said, most advisory firms are perfectly happy to put their trainees through RDR-complaint diplomas and do not expect them to qualify up front. It is more important to these firms that they are able to recruit the best and brightest from a wide pool of candidates.
While potential employers won't mandate that applicants must have work experience at a financial firm, it's important that you can demonstrate a natural interest in financial products and investments in your interview. If you haven't already, have you considered opening one of the best stocks & shares ISAs and investing a small amount to get some experience of investing your own money? This could provide some anecdotes and plenty to discuss in your interview. The minimum deposit you need to invest to open a stocks & shares ISA is tiny, so this needn't require a big outlay.
What type of companies do financial advisers work for?
Depending on what types of financial adviser you decide to be, you might be working in very different types of companies.
Tied advisers will typically work in Banks, Building Societies, Insurers and other high street financial institutions, recommending their providers products to customers.
If you decide to become an independent financial adviser (IFA), then you may work for a dedicated firm of financial advisers, or perhaps an advisory branch of a medium-sized accounting firm.
So depending on the direction you choose at the outset, you could end up in a very different role to other equally qualified advisers.
How to become a financial adviser: Going into business by yourself
You might have a dream of one day being a self-employed financial adviser, choosing your own hours and keeping all of your revenue.
I must stress that in the UK, this is only achievable after a lengthy period of work at an established financial firm beforehand.
The main reason is the heavy regulation of the advice sector. You will learn all about this in your level 4 qualification.
If a new firm wants to provide financial advice, they must apply to the FCA and comply with reams of regulation from that point onwards. Being an IFA isn't all about investing in emerging markets, buying property and building investment portfolios.
You must be able to demonstrate to the FCA that you are a 'Fit and Proper' person for the role. To prove this, you will need to be able to show a track record as a competent adviser, and demonstrate that you can comply with the reporting and notification requirements detailed in the Handbook.
However, if you can satisfy the FCA that you are an accomplished adviser, and you have the discipline and organisation skills to manage all the relevant compliance and reporting, then you could find becoming an entrepreneur is a very satisfying and empowering experience.
The cost of financial advice
A career as a financial adviser
Getting the most out of your adviser