So you've found yourself with some surplus cash from your student loan whilst studying at a UK university. The question has crossed your mind: should you spend it, repay it, or invest student loan money?
At Financial Expert we're passionate about investing, so we'll focus on the question of whether you should invest student loan money, such as buying shares and bonds.
Depending on when you received your student loan, different interest rates and repayment thresholds will apply, which will affect the answer to the question of whether you should invest your student loan.
In this article, I will assume that you received the student loan under 'Plan 2' which applies to all students that began their undergraduate degree after September 2012.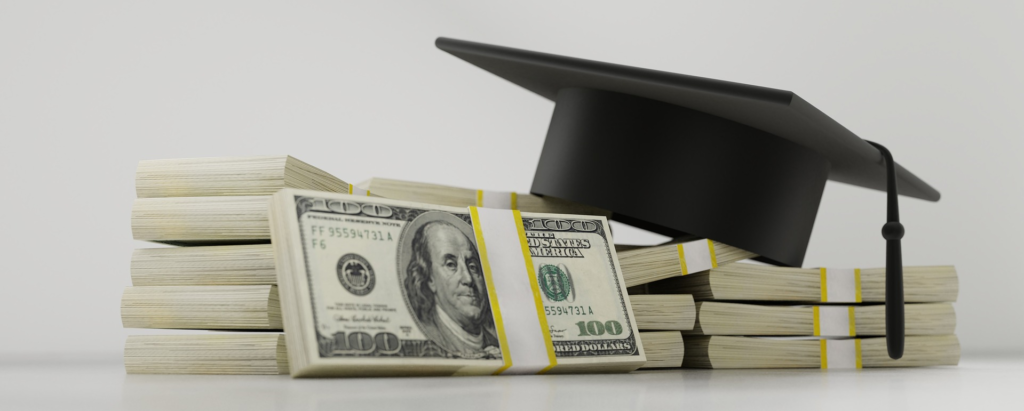 Reasons to invest student loan money
Investments generally return a higher rate of return than savings accounts, premium bonds or other cash-like places to stash your cash. Higher returns, mean you could reach your savings goals sooner.
By investing at the very start of adulthood, you'll be giving your investments extra years to compound and grow. In keeping your money in the markets for just three additional years, you may see its final value increase by a further 19% (based on 6% growth per year).
In the case of the stock market or other risky investments, you'll also be allowing more time for the value of your investment to recover in case of a crash in prices.
Should you invest your student loan or pay it down?
While there are many positive reasons to invest spare student loan money, this won't be the right choice for everyone. Before you make your decision, consider these two crucial questions:
Do you have 5 – 10 years to invest the money before you'll need to touch it?
Would you be able to cope if your investments fell in value by 40%?
You need to answer 'yes' to both of these questions to know you're ready to learn about how to invest in the stock market.
Stock market investments aren't for the short term. You won't become a millionaire overnight – forget what you might hear from adverts about day trading on YouTube. Expect to hold your shares or funds for at least 5 years to see a return that looks close to the average. If you suddenly need the cash and are forced to sell your shares after a dip in price, you may regret your choice to invest at the wrong time.
When you're at University and don't know what your post-graduate life will look like, it can be difficult to be confident that you won't need to access your cash again within a couple of years. That's why it's best to play it safe and not invest all of your student loans if you anticipate financial insecurities further down the line.
Another consideration is what rate of return do you expect to enjoy from your investments, compared to the interest charged on the balance of the loan? A repayment of a loan is like an investment in itself, because it provides an ongoing financial benefit in the form of saved interest payments. Therefore you may want to weigh up the interest saved against the potential returns from the stock market.
But this is where it gets complicated. Student loan repayments are not only a function of the loan balance and the interest rate, but also your pre-tax salary. If you don't earn a sufficiently high amount of income throughout your career, you may never pay off your student loan. This means that any small amount spent paying the loan down could have actually been a waste. Not only would it not have reduced the amount taken from your pay packet each month, but it was also settling a portion of the loan that would have been written off after 30 years since graduation anyway.
This is a complex area and this article cannot provide financial advice that is tailored to your own circumstances. Use online student loan repayment calculators to consider whether making modest repayments would actually affect the total value you repay over your lifetime.
How to invest your student loan money
Experts recommend that new investors stick to simple, easy-to-understand investments that will do the hard work of spreading your lump sum across a broad basket of companies or bonds. Think 'investing for dummies' rather than investing like a Wall Street trader and you'll have the idea.
This way, your investment risk will be evenly distributed across many businesses and this reduces the likelihood that a single piece of bad news could have a noticeable affect on your investment value.
By choosing a popular, respectable fund, such as a cheap equity ETF, you'll save yourself the agony of hours spent online researching what to invest in.
Before you invest, you'll need to pick a UK stockbroker to open an account with. We've listed our favourites below:
---
Trade shares with zero commission. Open an account with just £7. High performance and useful friendly trading app. Other fees apply. For more information, visit etoro.com/trading/fees.
Large UK trading platform with a flat account fee and a free trade every month. Cheapest for investors with big pots.
The UK's no. 1 investment platform for private investors. Boasting over £135bn in assets under administration and over 1.5m active clients. Best for funds.
---

Youinvest stocks & shares ISA offers lower prices the more you trade! Which? 'Recommended Provider' for last 3 years.

Choose a pre-made portfolio in minutes with Nutmeg. Choose your level of risk and let Nutmeg efficiently handle the rest.
---

Buy and sell funds at nil cost with Fidelity International, plus simple £10 trading fees for stocks & shares and ETFs.

Trade stocks & options on the advanced yet low-cost Freedom24 platform that arms retail investors with the tools to trade like professionals.
Is it easy to invest student loan money?
Investing with little money has never been easier, whether you're investing £1,000 or £10. The minimum deposit to open a stocks & stocks ISA is just £1.
You'll be pleasantly surprised at the value for money you'll receive from a huge list of stockbrokers. Before depositing with a broker, be sure to read our guide to avoiding investment scams.
When is the right time to invest your student loan money?
In our article 'when is the right time to buy shares?' we explain that the right time to invest is now, always. Of course, with hindsight, some years are much more favourable than others to be investing money in the stock market. But academic research has repeatedly shown that returns are higher if investments get their money working hard immediately rather than holding off for the perfect buying opportunity or waiting for the best investment to suddenly present itself. The danger of waiting is that the market may rise in the meantime, meaning that you have missed out on a bull run.