Forex has long been a popular investment option for those casting their eye beyond stocks. A science rather than an art form, it constitutes the most liquid market in the world and handles a huge amount of daily transactions, but it does not do this in isolation.
Having always adopted a forward-thinking approach to technology, it has been at the forefront of investment innovations for years, and its approach to fintech is no exception. We take a look at how this is impacting the forex market and how it might shape it moving forward.
An open-minded approach to innovation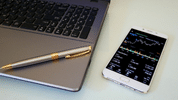 Source: Pixabay
As we mentioned, the forex market has ever been keen to adopt and assimilate the latest technologies. This is perhaps best exemplified by its embracing of mobile trading and the apps that accompanied it. When looking for the best forex broker in 2020, review sites understand that such technology is at the pinnacle of the user experience. For this reason, this site details whether or not a broker offers mobile products so that users can make an informed decision. With the appropriate guidance, users will be able to consider which benefits are appropriate for them and make an informed decision. This suggests that those same users prize this technology and having access to it.
We can see this tech in play in many different areas. Primarily, it ensures unstinting access to the markets, with the ability to trade any time and from any location. This is something traders naturally want to tap into, and so brokers respond with ever-more intelligent mobile products.
Not only this, but several tools have been designed to work alongside this increased accessibility. The idea behind many is to simplify the trading process so that even in the busiest and most chaotic of environments, traders can make financially savvy and fully informed decisions. One example is the mobile applications and algorithms that provide automated strategies for forex traders; another, the many profit calculators that exist. What these show us, is that tech is now increasingly utilised by those operating within the forex markets.
Paving the way for fintech

Source: Pixabay
The development and adoption of this increasingly clever tech have, in many ways, paved the way for fintech to emerge. Arguably creating an environment in which innovation is prized, these inventions have demonstrated the advantages of trialing new technologies.
Many of these are already at work within the forex markets, with Fexco being a clear example. An established fintech company, it provides services to many different businesses and sectors, with many foreign exchange brokers numbering among its clientele.
Fexco's purpose, ostensibly, is to make transactions cheaper and more reliable, and this it does with great success. In forex, where time and money are two luxuries traders can ill afford, this comes in incredibly handy. The result is therefore to enhance security, while at the same time making the very idea of forex seem more attractive to time-poor investors. It's not only individual traders who are likely to see the upsides to such technology. Some banks, building societies, and investment firms have also embraced fintech, using it to streamline their forex trades and make these more secure.
HSBC is one example of this, and according to Business Insider, it made $250 billion worth of forex trades using blockchain in 2018 alone. This vast sum not only suggests that the financial leviathan is confident in the utility and safety of the tech, but that other such entities are likely to follow suit – if they haven't already.
For the world of foreign exchange, this could prove revolutionary. With fintech providing a solution for many of the minor niggles which have long plagued the sector, it promises to make the world of forex investing simpler, more streamlined, and safer for all.
With such credentials to recommend it, the best forex trading books would agree; fintech's long-term adoption throughout the industry seems inevitable.