Looking for the best stockbroker reviews? Buying shares and funds online has never been easier using the best online stockbrokers with their slick apps and rapid execution times. Our online broker reviews will help you get up to speed.
Due to the number of stockbrokers headquartered in London, and the fact that the UK is a hotbed for fintech start-ups, British investors have a vast selection of fully-regulated online stockbrokers to choose from.
To help make the process of picking a UK stockbroker easier, we have invested hundreds of hours to produce some of the best online stock broker reviews available on the web.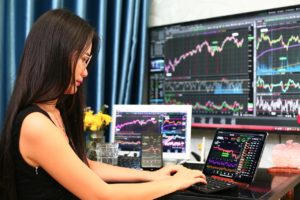 Our stockbroker reviews look at the key metrics of a stockbrokers' service, such as their fees and execution policies.
We also spend a lot of time looking at the firm behind the service. This includes assessing the level of regulatory supervision, measuring the size and financial resilience of the firm, and reviewing its reputation in the marketplace.
The result, we hope, is an incredibly useful series of reviews that will help you choose the perfect stockbroker you needs. Head over to our comparison of the best UK stockbrokers page to see how each UK stockbroker ranks against the others and how we've scored the top brokers. The page features almost 100 broker firms, making it the most comprehensive listing available in the UK.
We also separately compare investing apps and stocks & shares ISA providers.  
UK stockbroker reviews
A full stockbroker review takes around one week to research, test and write, therefore we haven't reviewed every online stockbroker on the web. This list of authorised ISA providers will show you the dizzying number of firms that operate in this space. 
Instead, we've focused our finite time on reviewing the best stockbrokers, starting with the most popular. Here's our current list of reviews that we'll update each time we create a broker review:
Here's the result of our stockbroker ranking at a glance:
---
Trade shares with zero commission. Open an account with just £7. High performance and useful friendly trading app. Other fees apply. For more information, visit etoro.com/trading/fees.
Large UK trading platform with a flat account fee and a free trade every month. Cheapest for investors with big pots.
The UK's no. 1 investment platform for private investors. Boasting over £135bn in assets under administration and over 1.5m active clients. Best for funds.
---

Youinvest stocks & shares ISA offers lower prices the more you trade! Which? 'Recommended Provider' for last 3 years.

Choose a pre-made portfolio in minutes with Nutmeg. Choose your level of risk and let Nutmeg efficiently handle the rest.
---

Buy and sell funds at nil cost with Fidelity International, plus simple £10 trading fees for stocks & shares and ETFs.

Trade stocks & options on the advanced yet low-cost Freedom24 platform that arms retail investors with the tools to trade like professionals.
Why our stock broker reviews are the best on the web
We firmly believe that Financial Expert is the home of the best stockbroker reviews for UK retail investors for four reasons:
We write long reviews that contain all the answers to key questions
We look through the service offering and examine the firm behind the brand
We make comparisons between brokers based upon realistic scenarios
We include criticism, including public reviews where they add value to the review
1. Length
Our reviews are long. Our eToro review, for example, is 4,605 words.
That's because there's so much to cover in a comprehensive review of any brokerage service. Different investors have different needs and will place different levels of weighting on competing features or functions. We try to write our stockbroker reviews to cater to casual investors, long-term investors with buy-to-hold portfolios, and day traders.
Our reviews include an overview of the account types offered by a firm and the features of those accounts. It'll highlight the main fees and charges that investors will want to know about, as well as the regulatory environment. We'll explore the firm behind the service (see next section), and the reputation of the broker according to multiple sources. Finally, we summarise the pros and cons of the product and provide an overall conclusion.
This is a simple structure which you would imagine was widely replicated across the web. This isn't so. Many stockbroker review websites write short and mostly positive reviews designed to drive customers towards a particular broker to earn a commission as quickly as possible. At Financial Expert we do not follow this approach. 
2. Analysis of the firm and service
Investors will form a relationship with the brand and the user interface of an online stock broker, but they'll be dealing with the firm behind the service.
That's why we spend a good portion of our stockbroker reviews looking at the legal entity behind the service. We look at the financial performance of the business, its size and how many clients it has. We look at where the firm is located and headquartered and how this impacted how it is regulated.
For example, in our Hargreaves Lansdown review, we explain that HL is a UK public company that is one of the largest companies in the UK and a member of the FTSE 100 index of companies traded on the London Stock Exchange.
This is incredibly useful for investors to know because it could provide them with a great deal of reassurance as to the financial stability of a firm. Of course, there are no guarantees that a firm will continue to trade indefinitely, but by reviewing the financial statements of a business we can screen-out businesses that are currently experiencing financial difficulty.
Take a look at our Hargreaves Lansdown review summary to see that its size and location resulted in 100% scores for 'UK regulation' and 'Size of firm' accordingly, which influenced its overall broker score:
3. Realistic comparisons
Investors who follow different investing or trading styles will incur fees in very different proportions.
A long-term fund investor with a large portfolio of £1m will spend a sizeable amount each month on platform fees, which are typically charged as a % of total assets.
In contrast, a day trader with a small pot will incur many dealing charges each month as they move in and out of speculative positions.
To understand which is the cheapest stockbroker you'll therefore need to consider what fees your activity is likely to attract. No single fee or metric will provide this answer to all investors.
That's why we consider different scenarios when comparing the cost of brokers in our reviews.
In our AJ Bell YouInvest review, we look at the fees chargeable on three example portfolios:
Portfolio 1: "Fund Simplicity" – £50,000 of funds such as OEICs, Unit Trusts (not ETFs) with 2 fund purchases per month. 
Portfolio 2: "Armchair investor" –  £250,000 of shares with 10 trades per month.
Portfolio 3: Passive newbie – £10,000 of ETFs with one trade per month. 
We understand that this is relevant because crucially the cheapest stockbroker for each of these portfolios is not the same firm.
4. Balanced viewpoints
Our editorial policy when writing stockbroker reviews is to write factually and impartially about the service and the firm behind it.
This results in our reviews including criticism of the broker, where relevant, and highlighting where the stockbroker isn't the cheapest.
Our interactive investor broker review is an excellent example of this in action.
In the review, we naturally highlight that ii may be the cheapest stockbroker for investors with large portfolios. But this finding has an inevitable flip side: ii is not cheap when investing with little money.
We make this clear both in our headline broker comparison table:
and the review itself:
We're big fans of interactive investor here at Financial Expert, but that's not the same thing as recommending it to all investors. Each broker chooses a pricing structure that will appeal to a certain type of investor. This will naturally make it a less-perfect-fit for other investors, and we won't do the UK investing community any favours by failing to point this out. 
Other sources for the best stockbroker reviews
To follow our editorial policy we would also like to recommend other authoritative sources for broker reviews elsewhere on the web:
Monevator.com maintains a fairly comprehensive table of popular UK stockbrokers (focusing on household names and traditional institutions over new investment apps). The Monevator team update the table on a periodic basis, so it's always necessary to double-check with the provider before.
Moneysavingexpert.com doesn't rank or directly compare stockbrokers, but nevertheless, it's home to great advice on how to find a stockbroker in the shape of many articles and guides on the topic.