Go Digital! Does that mean just having an internet presence is sufficient? Of course not. Digital transformation goes deeper and involves a lot of intricacies. With advancing technology, it makes sense that businesses evolve digitally as well. Innovation is the key for organizations to thrive in the 21st century and beyond.
The success of a business depends on customers. As a business grows, it becomes vital to automate as much as possible. That's where technologies such as the cloud, Artificial Intelligence, Machine Learning, and the Internet of Things come into the picture. Now that it's clear that investing in digital transformation is no longer optional for businesses, let's take a look at the most crucial aspect, cloud CRM.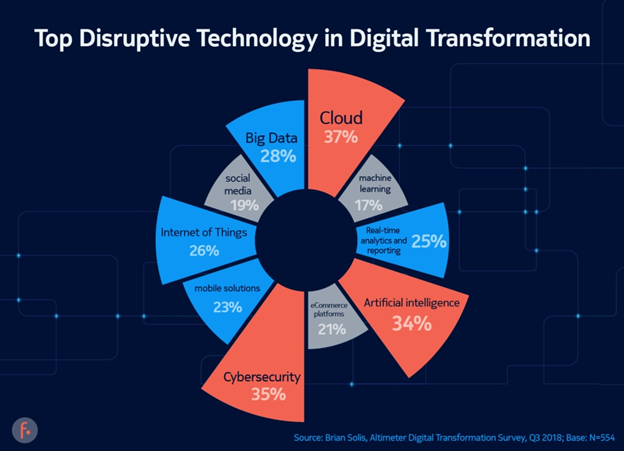 How Cloud CRM Facilitates Digital Transformation
Gone are the days when businesses used to rely on something tangible. The cloud is one of the most crucial intangible assets that have been a game-changer for most firms throughout the world. A cloud CRM is a customer relationship management solution that facilitates seamless access regardless of geographical location.
Let's take a look at some details that explain how investing in CRM system for digital transformation can turn out to be the best business decision ever.
1. No location dependency
It's the age of work from home. Even if you have on-premise CRM software, only those at the office would be able to use it. On the other hand, cloud CRM will enable your employees to use the software regardless of their location.
The freedom to work without any location dependency is becoming the norm. All your workers need is a good internet connection. For instance, if you land a promising sales opportunity outside of office hours. A CRM software will enable you to finalize the deal regardless of office hours. Even your marketing team will be able to sync the CRM system on their smart devices or laptops.
An investment in enabling remote working sounds like a sound strategy in the post-Covid era. You've probably read enough business books and management books to understand that getting ahead of a trend in people strategy can help your business attract the best and brightest talent.
2. Plenty of room for growth
Cloud CRM offers massive scalability and can live up to unexpected growth spurts. If necessary, you can even scale down in times of need. Last year, we witnessed many companies making changes to their staff. They even had to let some people go how to save financial resources.
This calls for a major need to scale back most operations. If you have a CRM solution that is unable to grow with the progress of your business, it's nothing but a major bottleneck.
Thinking ahead strategically is a sound example of financial management, where a larger capital expenditure outlay now can potentially save costs further down the line.
3. Unlimited integrations
Every business needs multiple tools like online fax for hassle-free running. A good cloud CRM allows unlimited integration and saves you a lot of frustration. You also don't need to login and logout several times a day, thanks to seamless integrations. For instance, many sophisticated CRM solutions come with the facility of social media integrations.
4. Better security
As technology becomes progressive, so does the susceptibility of cyber hacks and data threats. With more advancements arises the need for more security. If businesses fail to manage the risks of going digital, they will succumb to data breaches, cyber-attacks and scams before they know it. This makes investing in a good cloud CRM with high-security one of the biggest priorities for businesses.
It has a pretty tough-to-crack security system which is hard for attackers to get into. A sophisticated CRM solution offers high-level encryption. All you need is to inculcate a sense of responsibility in your employees and train them on cybersecurity. Minimize human errors and the software will take care of the rest.
5. Cost-effectiveness
Even though the initial investment might make you second guess, this low-risk endeavour provides high rewards and cost-cutting solutions in the long run. It takes care of risk management, promotes collaboration, integrates with other apps, and enhances customer experience.
Final words
Since those ahead of the game have already implemented their digital transformation strategies, the market pressure is going to increase. It's high time every business started prioritizing performance and growth by undergoing a major paradigm shift.
The digital economy is ever-growing and ever-evolving. Diving deep and straight into digital transformation is the only way your organization can pragmatically adapt and thrive in today's scenario and beyond.