In my Ecologi update series, I provide an update on the impact of Financial Expert's donations to Ecologi – a company helping to fight climate change. In May we have hit another exciting milestone which we will outline below. Together, we are helping to fight against the climate emergency.
Welcome back to our latest blog post about the tree planting frenzy underway at Financial Expert. In June we:
Funded a record number of trees
Saw our CO2 offsetting impact increase
Made additional contributions to top-up our tree planting efforts
As always you can visit our Ecologi page at ecologi.com/financial-expert to verify all statements on this page. That's in addition to reviewing the screenshots etc that we post as updates. You know that all additional contributions page to our account are made by us, as we tag each donation with a description which links those trees back to our site.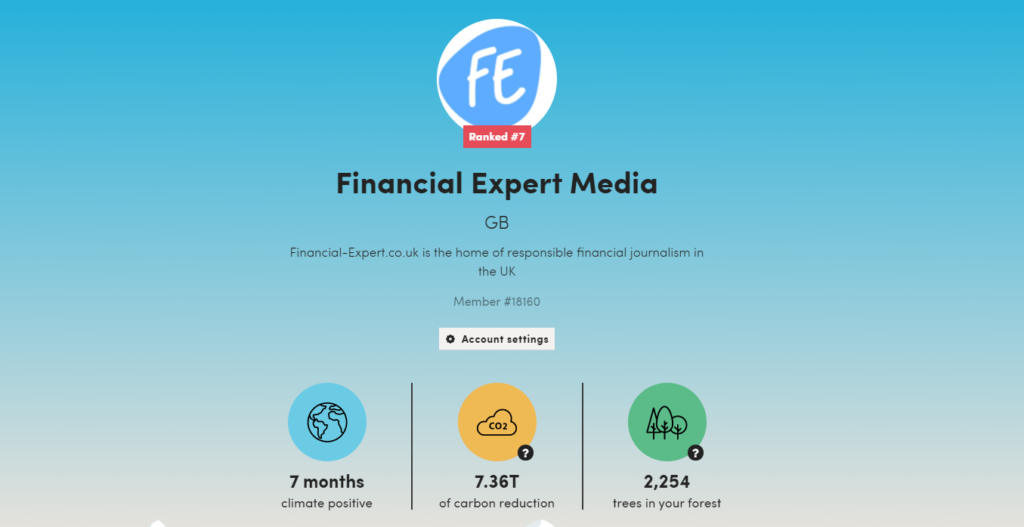 Tree Update #7 – June 2021

Current subscription level: Booster (2 Carbon footprints)
Number of trees planted: We have funded 2,000 2,254 trees in total
Number of bonus trees from referrals: No new bonus tree referrals this month (read below to find out why)
Additional impact purchased: 260 230 trees were funded by Financial-Expert.co.uk advertising income this month
Why no bonus trees from referrals?
In June 2021 we've experimented with a new referral scheme to Ecologi. Previously, we would refer visitors and in exchange, our account would be credited with 30 bonus trees.
The new scheme offers a payment of £13 instead. When that money is then reinvested into more trees, this funds roughly 80 trees. We don't retain any of the referral commission and simply see this as a more efficient way to increase Financial Expert's impact. In June 2021 we referral new additional members to Ecologi, and thus combined that £26 with the advertising revenue as needed to fund enough trees to stay on track.
Ecological projects being supported by donations to Ecologi in June 2021
The following projects were partially supported by donations from Financial Expert and all other Ecologi members:
Protecting old-growth rainforests in Peru
Restoring peatland in Indonesia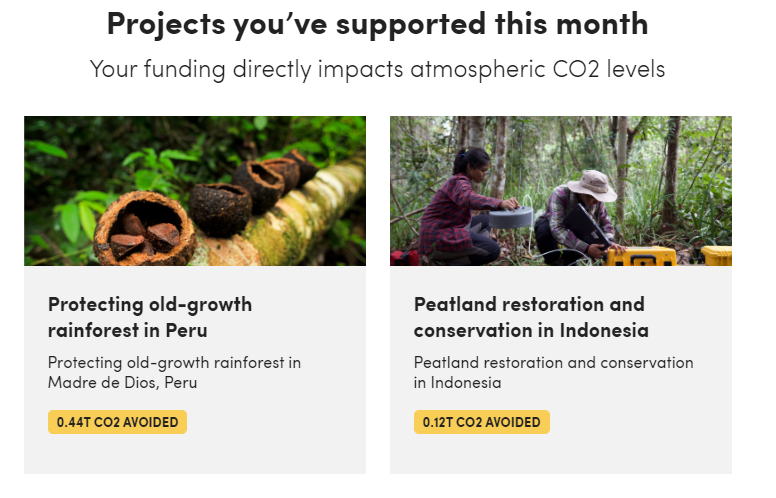 Tree Purchases
Here is the evidence of the June 2021 Financial Expert donation to Ecologi.

Impact of the recent upgrade to 'Booster' membership level
In our last update, we explained that we had increased the regular contribution level from 'starter' member level (equivalent to 1 carbon footprint), to 'booster' (2 carbon footprints). This is actually a less 'efficient' way to fund trees, as money spent through the regular payments goes towards a combination of tree planting and other carbon offset projects. Therefore the more spent via membership, the fewer trees being planted by each pound spent.
However, this isn't just a tunnel vision obsession about tree statistics, it's about helping the environment. We're keen to ensure that while our new trees are growing, we're also driving other initiatives that will take carbon out of the atmosphere.
Our Ecologi review will help you learn more about this interesting company and how you can partner with them to reduce your own carbon footprint.