In my Ecologi update series, I provide an update on the impact of Financial Expert's donations to Ecologi – a company helping to fight climate change. In this post I want to share the fantastic success I've had in referring new members to Ecologi, and provide the 4th tree update!
Who is Ecologi?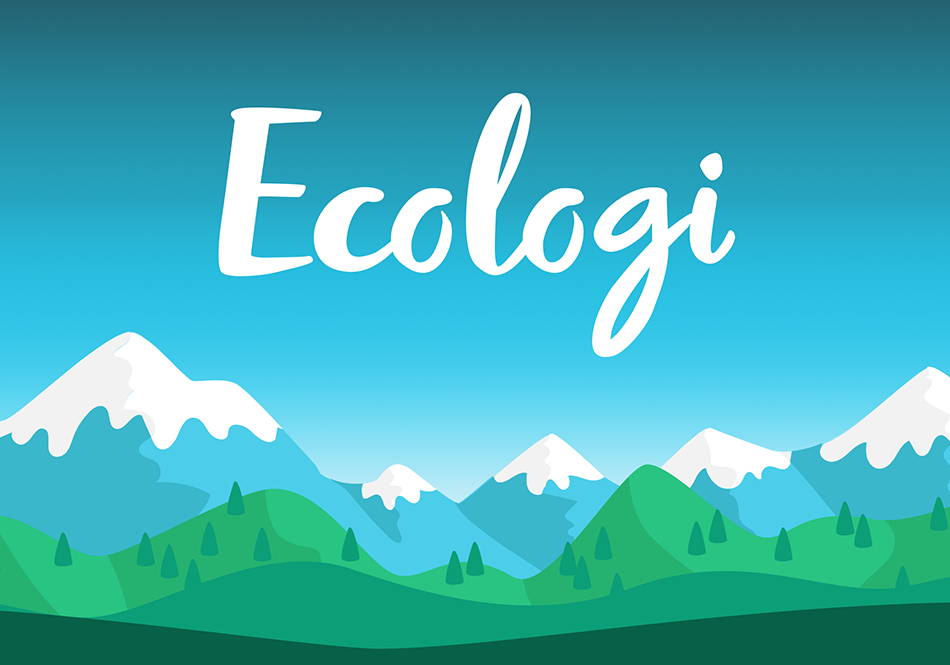 Ecologi is the climate change platform we have partnered with to become carbon negative. You can visit my full Ecologi review for more details.
Ecologi distributes funds raised to accredited carbon-offset schemes across the world, to ensure that our donations create as much impact as possible.
Through Ecologi, you can become carbon negative for just £4.70 per month. Joining through my referral link, you will receive 30 trees of additional impact against your account.

Tree Update #4 – March 2021
Current subscription level: Helper (1 Carbon footprint)
Number of trees planted: I have funded 674 1,382 trees in total
Number of bonus trees from referrals: I've been awarded 450 570 bonus trees
Additional impact purchased: 0 250 trees were funded by Financial-Expert.co.uk advertising income (see below).
For the previous month's update, see our February 2021 update.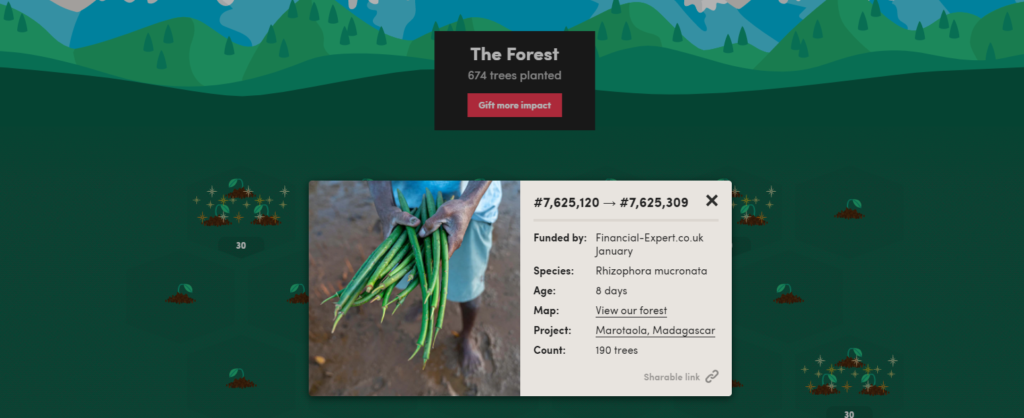 March 2021 at a glance
In hindsight, March 2021 was the month where the tree planting campaign achieved the scale and momentum needed to smash this challenge.
The total number of trees planted has double from 674 to 1,382 trees. Breezing past the 1,000 milestone and bringing 2,000 within our sights. This particular stat is helped by the timing of this post. The February update was posted early February whereas this update comes to you towards the back-end of March, so it incorporate more than one month's worth of activity.
The path to 10,000 trees
Still, the end of March marks 1/8th of the way through our timeline to hitting 10,000 trees funded by 31/12/22. So how are we doing against that goal?
Well, 1/8th of 10,000 is 1,250 trees. So if we were assuming flat contributions, then we'd want to be at 1,250 by now to have the assurance that our run rate is sufficient to get to 10,000 by the end of next year. On that basis, we're doing well. In fact, we're 132 trees ahead of that target with a week left in March to creep ahead even further.
Double tree gifts
So how many of these trees came from direct donations from Financial-Expert.co.uk? Well, this period has seen two donations, being the February and March donations. We added 314 trees using February-21 income and 250 trees using March-21 income.
For complete transparency and accountability, these donations are clearly labelled as 'Financial-Expert.co.uk' Feb-21 and Mar-21 so you can check them yourself on the Ecologi website.


Recipients of March funding
Ecologi picks two projects to fund each month. By being selective, and focusing donations to as few partners as possible, it can keep administrative costs to a minimum for all parties involved.
Efficiency is always an important aspect of charity for me. We want to know that my money is going as far as it can. Let's take a look at the projects Ecologi selected this month:
Onshore wind generation in Taiwan
Forest protection in Northern Zimbabwe
As any book about land and forestry will explain; the cost of tree planting will be directly linked to land values and the local cost of labour. That's why many of Ecologi's chosen projects are in emerging market economies or less economically developed countries.
If labour costs are lower, then the same budget will plant many more trees. The cost of planting a tree in the UK can be more than 5 times more expensive than a project in an emerging or frontier economy.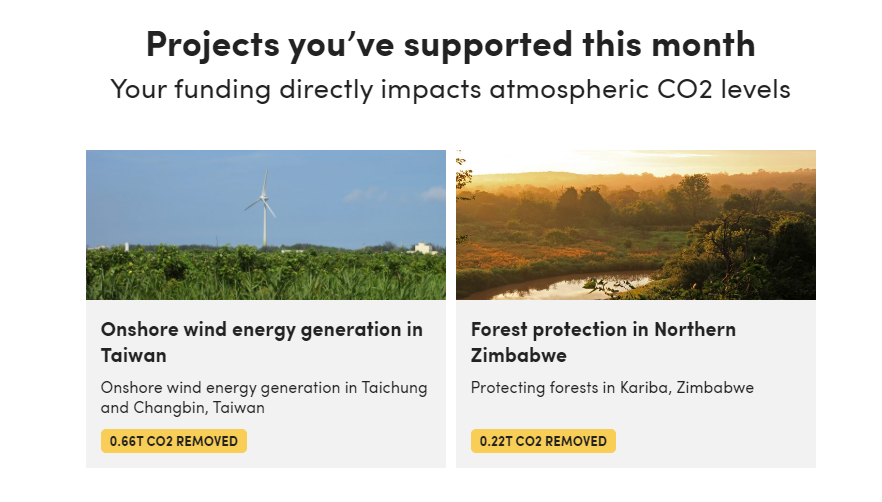 Targets for April 2021
I plan to keep April's targets simple:
Refer 2 new members to Ecologi
Plant 30 trees through my personal subscription
Add 150 trees through direct donations.
Planting trees is a team sport!
Help us by joining Ecologi today through my referral link which will earn each of us 30 free bonus trees! Almost as fun as getting free shares, right?
Alternatively, if you want to make a one-off contribution of trees or carbon offset to our virtual forest and directly help us hit our goal that way, then you can do so through the same link above.