Lars Kroijer is the critically acclaimed author of Investing: Demystified.
We recently ranked Investing: Demystified #7 in our ranking of the best investment books for 2021.
Lars hails from Denmark, where he worked as a successful hedge fund manager before penning not one but two investing titles, more on those below.
I'm delighted to announce that I secured a written interview with Lars, which I'm able to share with Financial-Expert.co.uk visitors below.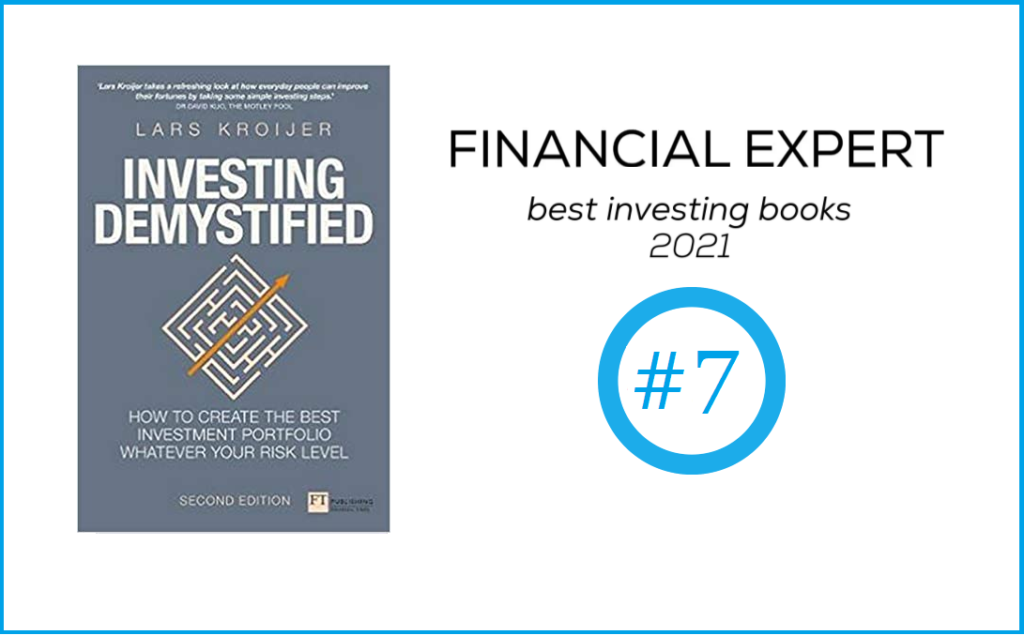 Interview with Lars Kroijer
Please could you tell us a little about your professional background and why you felt inspired to write Investing Demystified?
Lars: I am a former hedge fund manager who previously wrote a book called "Money Mavericks" about my experiences of starting and running a hedge fund. The book ended up doing quite well, and my publisher asked if I was interested in writing another book. I decided that I didn't want to write another book about hedge funds. Since the topics covered in "Investing Demystified" had always interested me, and my publisher gave me somewhat free reign, it was a natural topic.
I have worked in finance since graduating from university in the 90s and still sit on the board of a number of hedge funds. I sometimes get asked how I can be involved with hedge funds and still write a book about how hard it is to beat the markets. I see how that can seem like a contradiction. But a key point in my book is that while I think it is incredibly hard or impossible for most people to beat the markets, I am not saying it can't be done.
In the course of researching and writing this book in particular – did you come across anything that surprised you?
Lars: The feedback from the book has been overwhelmingly positive. In my research, much like my experience after publishing the book, I have been hugely encouraged by how much regular investors have taken the advice in the book to heart. Many seem to have felt that there was something wrong when they were charged a lot of money without an obvious understanding of what they were getting for their higher fees.
It seems to me that a lot of the book's success was because it helped some people put a finger on something they have felt for a while. Namely that there is a better way to manage your assets than blindly paying high fees to conventional asset managers, and that managing your own money doesn't have to be daunting. In researching the book I was surprised and encouraged by how ready many retail investors seemed to be in accepting this argument, and later incorporating them into their financial planning.
For budding financial writers, what is the one piece of advice would you give to those writing to educate beginners about investments?
Lars: I would be very clear who you are writing the book for. It seems to me that some writers are incredibly broad in their targeting and sometimes fail to give tangible and executable lessons for a more targeted audience. Also, I would keep in mind that there is great value in simplicity when it comes to financial advice. Traditionally I think the finance sector has kept the lingo opaque and hard for the regular investor to understand. A write who help retail investors understand finance in plain language will fare much better.
And finally, I like to ask all authors; when saving and investing your own money, what is your preferred investing style?
Other than my investments in the hedge funds and businesses I am involved with, I invest my money like I recommend in "Investing Demystified". There are incredibly money and time savings in just buying broad, cheap, and tax-efficient index trackers.
The Complete Works of Lars Kroijer
The headline title which forms the subject of this interview is Lars's most recent published title: Investing Demystified: How to Create The Best Investment Portfolio, Whatever your Risk Level.
Lars's foray into investment writing was in his inside account of the hedge fund industry, provided in Money Mavericks: Confessions of a Hedge Fund Manager.
Finally, Lars also contributed insights to Harrimans Books of Investing Rules, which attempts to consolidate the wisdom of many established finance writers and experienced investors in a single volume.
As an Amazon Associate, I earn a small commission from qualifying purchases which helps to support this site.