We reckon that Financial-Expert.co.uk could be the greenest finance website in the UK on several measures. On this page, we explain our claim to this title and share our full workings for the sake of transparency.
What do we mean by the greenest finance website in the UK?
We plant the most trees per 1,000 visitors (24 trees per 1,000). Thats one tree per 39 visitors.
We offset the highest percentage of our carbon emissions (approx. 2,000%)
How do we know we're at the top of the leaderboard on these metrics?
We don't. Not completely anyway. We could never be 100% sure. Here's why:
Carbon offset schemes are provided by private companies and aren't collated in a government or quango database. Therefore no single, centralised dataset exists which records information such as carbon footprint, offset certificates and numbers of trees planted which we can use to effortlessly settle the question.
All we can do is perform research to look for counter-examples and loudly make our claim in good faith. If we show our workings, as we do here, we can invite others to contact us and highlight their own achievements. If we hear about another organisation doing even better, we'll happily revise our claim and celebrate their own success. Climate positive activities aren't a zero-sum game, after all.
It's also worth making very clear that after performing this market ESG research, we are extremely satisfied with the energy-reduction and carbon offsetting activities of our competitors within the online finance space. We have collated some extracts of sustainability policies below. You'll be able to see for yourself that the leading British financial websites are taking their responsibility toward the planet very seriously.
How have we calculated our own metrics?
Using the website carbon calculator provided by WebsiteCarbon.com, plus a prudent estimate for other aspects of running our business, we have estimated that the carbon footprint of the website is approximately 0.75 tonnes per year.
This is comprised of 525kg from running the website itself:

Plus 0.25 tonnes added to cover the carbon footprint of laptops, the energy used to power them and the footprint of other web services used by our website, such as the servers at CloudFlare. As an organisation, we operate remotely, do not travel and don't operate office space to run the business. Therefore we believe that an additional 0.25 tonnes per year is a very prudent estimate.
This gives a total of 0.75 tonnes of carbon per year.
In the 11 months to November 2021, we have offset 14.4 tonnes of carbon, as shown below on our public profile at Ecologi.com. The equivalent carbon footprint for 11 months is 0.7 tonnes.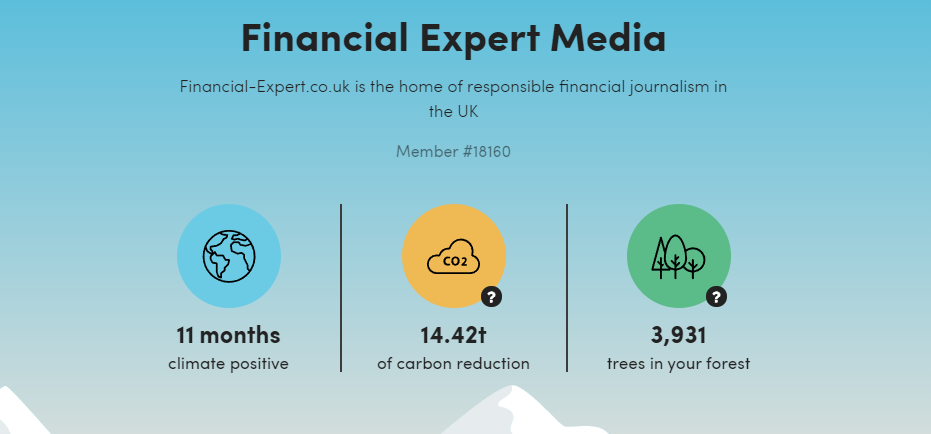 This allows us to report that we have offset 2,000% of our carbon footprint on a year-to-date basis.
The same profile also shows our tree-planting efforts, which compared to the 164,000 unique visitors recorded over the same period, equates to 24 trees planted per 1,000 visitors.
We really encourage you to consider using a carbon offsetting service such as Ecologi to help offset your own carbon footprint. You can read our Ecologi review for more information about the service.
The encouraging climate policies of leading UK financial websites
We've reviewed the sustainability policies of several prominent UK financial websites to understand what our larger peers are doing to mitigate, offset or provide a net benefit to the environment. Here's a summary in no particular order:
GoCompare.com – 100% of carbon footprint offset
GoCompare was owned by GoCo Group plc until midway through 2021. For the last full financial year prior to their acquisition, GoCo plc acquired sufficient carbon offset certificates from Woodland Carbon. These are accessible via their corporate website for the public to view. We've taken a screenshot to show below: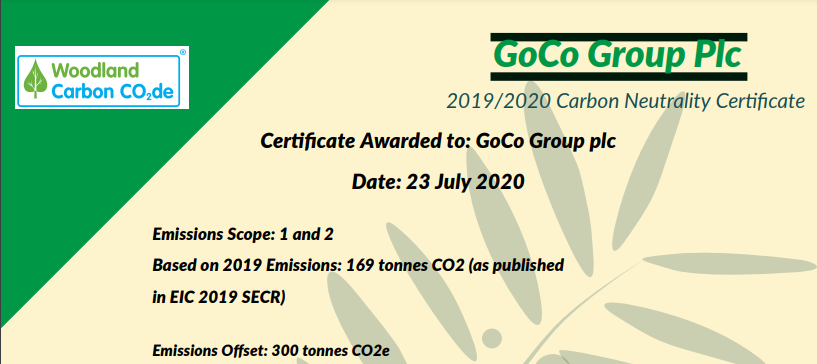 CompareTheMarket.com – energy reduction initiatives
In March 2020, BGLGroup (the corporate owner of CompareTheMarket.com) reported that they had been awarded Investors in the Environment Bronze Award, an environmental accreditation scheme run by Peterborough Environmental City Trust (PECT). This award acknowledged various energy-saving initiatives implemented by the company, which operates from multiple locations across the UK.
In the same press release, the company makes reference to an ambition to consider carbon offsetting in the future.

MoneySupermarket.com / MoneySavingExpert.com – 150% of carbon footprint offset
Moneysupermarket.com Group PLC, which own several leading financial portals including MoneySuperMarket and MoneySavingExpert, reports on its corporate website that it has taken bold steps to go beyond carbon neutrality. We'll let their own statement explain how they have done this:

Confused.com – 100% of carbon footprint offset (including retrospective catch-up)
Confused.com explains in their policy that they have purchased enough carbon offsets to be able to declare that they have been carbon neutral since the website was founded in 2002. This is a truly inspiring commitment that we hope other UK businesses will also be encouraged by.