We have put the Fineco CFD trading platform to the test and have concluded that it is the best CFD provider for UK traders in this Fineco CFD review.
Fineco is a large Italian bank that has recently expanded into the UK. It handles tens of millions of trades every year and uses those economies of scale to compete fiercely with established UK CFD providers to reduce trading fees.
In this detailed review, we will deconstruct the excellent Contracts for Difference (CFD) service offered by Fineco and explain why we have awarded it a higher combined score than other competitors, such as CMC Markets, Trading 212, IG, Plus500 and Saxo Bank.
---
---
The Fineco Bank CFD trading platform has been making waves since this Italian brokerage giant launched in the UK. We rate Fineco as offering the most competitive spreads & fees of any UK-regulated CFD provider, and currently recommend as our #1 rated CFD provider for UK traders.
---
CFDs are complex instruments and come with a high risk of losing money rapidly due to leverage. 71.45% of retail investor accounts lose money due to CFD trading with this provider. You should consider whether you understand how CFDs work and whether you can afford to take the high risk of losing your money.
Commission-free trading of stock CFDs*
Market-only spreads - no added fees
Free live wire news and stock quotes
No fees for inactivity or withdrawals
€100,000 deposit protection scheme
No support for cryptocurrency
Min. short overnight fees of 2.5%
Combination of UK & EU regulation
Risk warning
Before we continue, we want to highlight that contracts for difference come with a high risk of losing money rapidly due to leverage. At the time of writing, 71.45% of retail investor accounts lose money due to CFD trading with this provider. You should consider whether you understand how CFDs work and whether you can afford to risk losing your money.
Full Fineco CFD review
In this full review of Fineco, we will introduce you to Fineco as a financial institution, explain the products that Fineco offers, as well as the markets and financial instruments you can trade with this CFD broker. Fineco offers different types of investment accounts but we will be focusing our review on its CFD trading offering. This will allow us to compare and contrast more closely with Fineco's closest competitors, to provide useful insights to you, our readers.
Products
As a client you can apply to open a single account with Fineco, within which you will be offered a number of products; including a Stocks & Shares ISA (for funds, stocks & bonds), and a broad brokerage account which can hold CFDs, bolds, stocks, ETFs, options, futures, and multi-currencies.
The breadth of the Fineco offering makes it a one-stop shop for traders looking to take advantage of both short-term and long-term movements in various financial markets. In fact, we believe that Fineco's offering could be considered the broadest range available to UK retail traders.
Options trading and futures are leveraged financial instruments that are only suitable for experienced investors who fully understand how these products are priced and the risks of trading them.
What are CFDs?
If you would like a quick introduction to CFDs, visit our short series of articles about contracts for difference and how they work.
For the uninitiated, contracts for difference are derivatives – an agreement between you and a financial institution such as a CFD broker. Under the agreement, one party will gain and one loses depending on the price movement of a given asset while the agreement is active.
A contract for difference platform, like the one offered by Fineco, allows traders to choose the direction and size of the position they would like to take, and open the trade within seconds. CFD trades can be closed during market hours for the particular instrument.
Markets
Fineco offers CFD trading within the following markets:
Global shares CFDs
Unlike some UK stockbrokers that offer compelling pricing for domestic shares, but restrict access or hike up commissions when trading foreign shares, Fineco offers trading in a range of global shares at similar spreads.
Due to a 0.06% markup applied to FTSE 250 stocks, you may find that trading US stocks such as Nike and Disney is even cheaper than trading some UK companies such as Greggs and J D Wetherspoon.
Traders use global shares CFDs to trade recent news events or trading ideas derived from fundamental analysis or quantitative strategies. Fineco bank offers live pricing data and news to help feed the data needs of most equity trading strategies.
CFD trading famously allows you to short stocks as well as go long, which means that you could profit if the price of a company falls. This flexibility could be helpful in markets that are trading sideways or even falling, as they did in 2022.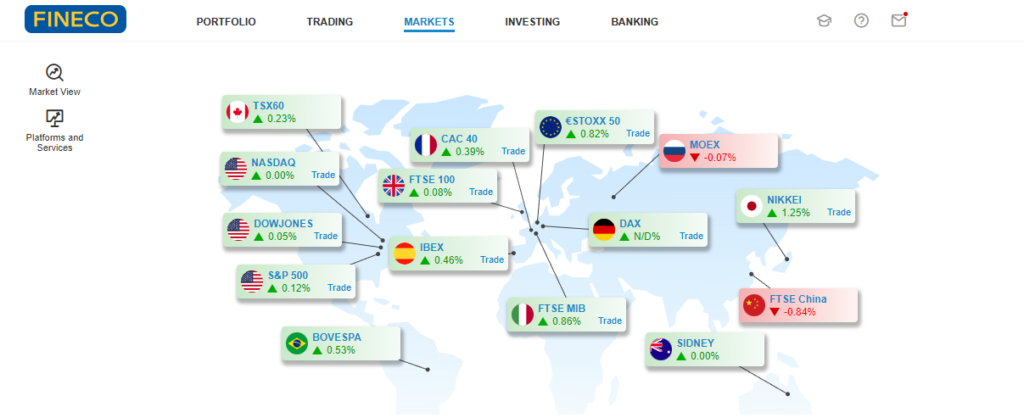 World Indices CFDs
Fineco offers CFD trading on the following equity indices, which include some of the most widely tracked and recognisable measures of stock market performance:
S&P 500 – A diverse index of 500 of some of the largest US companies, including Tesla, Microsoft, Johnson & Johnson and Exxon Mobil.
Dow 30 – A pared-down selection of US industrial stalwarts that trade on the New York Stock Exchange such as Boeing, Caterpillar and Chevron.
The Nasdaq – A tech-orientated index of leading US stocks including Apple, Microsoft, Amazon and Meta.
FTSE 100 – A well-known index of British firms listed on the London Stock Exchange with a sector tilt towards financial services, mining and healthcare.
Dax 30 – 30 of Germany's largest corporate powerhouses such as SAP, Siemens and Volkswagen.
Cac 40 – A index of leading French companies including BNP Paribas, LMVH and L'Oréal.
EUROSTOXX 50 – A broader pick of 50 European companies with the largest market capitalisations, including top picks from the Dax and CAC.
For traders with a bullish or bearish sentiment on equities as an entire asset class, index CFDs offer a simple way to trade this sentiment without needing to open many positions across a basket of companies.
Commodities
Physically acquiring commodities can be impractical and storing them is costly. That's why some traders turn to CFDs to take long or short positions in commodities. CFD positions can be opened or closed in the same way as share or index CFDs, making it possible to include exposure to the spot price of commodities in your trading portfolio.
Fineco offers larger 'super' commodity CFDs which replicate the size of real futures contracts used by professional commodity traders. It also offers a 'mini' version which gives similar levels of exposure to stock CFDs that traders may be familiar with.
Examples of commodities that you can trade with Fineco include:
Gold – The world standard reserve asset, favoured by World Banks, collectors and industrial users owing to the unique properties of this precious metal;
Light Crude Oil – The material that refiners use to produce petroleum products such as petrol and diesel;
Natural Gas – A hydrocarbon used for household heating and the generation of electricity;
Platinum – A resilient and unreactive metal used in jewellery and electronic components;
Palladium – An element closely connected with platinum with a lower melting point, used to treat water and in fuel cells; and
Silver – A dense, easily moulded material with numerous uses and a lower price point than gold.
CFD commodity trading has several benefits over trading the real asset, such as its VAT treatment. Physical silver transactions are subject to VAT, which means any purchase from a licensed precious metals dealer will include a 20% tax that cannot be recovered by an individual investor. This makes physical purchases a highly inefficient way to invest in silver.
Forex
Forex pairs, such as the below, are some of the most highly traded instruments offered by Fineco.
GBP: USD
GBP: EUR
USD: JPY
GBP: CHF
Trading currency CFDs may allow you to capitalise on macroeconomic trends, global news and changes in monetary policy by the central banks that hold together the global financial system.
Currencies have experienced sharp revaluations in recent months following record-breaking rounds of interest rate rises by the likes of the US Federal Reserve and the European Central Bank. Traders such as hedge funds who have anticipated these interest hikes have been able to leverage the scale of CFD positions to generate a profit on these trades.
Trading cryptocurrency
Fineco Bank UK does not enable clients to invest in cryptocurrency. To buy Crypto, you must open an account with a different financial institution, such as eToro (read review), to trade crypto.
Cryptocurrency CFDs were banned in the UK by the Financial Conduct Authority owing to concern that the strong price volatility of cryptocurrencies made them an unsuited match for the already high-risk leveraged nature of CFDs. It was not uncommon for the value of cryptocurrencies to fall by 10% in a single day, which would have left any traders leveraged at 10x with 100% losses.
Due to these regulations, you won't find any CFD provider offering cryptocurrency CFDs to UK clients. You should take an extremely cautious stance toward any online provider that claims to, as this is a red flag that the entity is putting profits above compliance.
Pricing and fees
CFDs are complex products with a number of fees, charges and terms & conditions. This review isn't an attempt to recreate or comprehensively explain Fineco's terms. Instead, we have highlighted the information that we think is most useful to contrast with competitors.
CFD providers will generally charge the following fees that will impact your total cost of trading:
Account opening fee
Platform fee
Foreign exchange fee – levied on transactions required to open trades in a different currency to your initial deposit
Commission – a fixed or % sum on the value of a buy or sell transaction
Overnight holding charges – a fee applied daily to positions held open overnight, which effectively charges for the cost of financing your leveraged position.
Spread – the difference between the buy and sell price which is adverse for traders
Withdrawal fee
Account opening fee
Fineco charges nothing to open or fund an account. There's no minimum deposit and it doesn't charge an inactivity fee on accounts that don't trade for a period.
Platform fee
Fineco doesn't charge a platform fee for CFD trading. If clients opt to open a Stocks & Shares ISA within their account, a platform fee of up to 0.25% may be charged depending on the size of holdings. This is a low fee relative to other Stocks & Shares ISAs such as the leading ISA provider Hargreaves Lansdown, which charges 0.45% on the value of funds held in the account.
Foreign exchange fee
You can manage multiple currencies within one account with Fineco, which can help reduce FX fees over the long term when trading different types of investments denominated in different currencies. When converting currencies on the platform, Fineco charges no additional spread on the currency exchange.
In contrast, many other brokers charge a fixed commission on foreign currency exchange, e.g. 0.5%.
Currency exchange fees don't apply when trading CFDs, as trades are defined as £X gain/loss per point of movement in the quoted price or index value, regardless of the denomination of the underlying instrument. Therefore whether you're trading a USD share or a GBP index, the gain or loss on each trade is calculated in GBP under the terms of the order you place.
Commission on share CFDs
Fineco leads the market when fees and charges are considered across share CFDs.
On UK, US & Euro shares CFDs, Fineco charges zero commission to trade.
In contrast, IG, CMC Markets and Saxo bank currently charge 0.1% commissions on UK Shares (minimum £8 – £10 charge depending on provider).
Where spreads are comparable, it is cheaper to execute share CFDs via Fineco compared to these competitors. It's worth noting that Trading 212 is also commission-free.
Every commission or spread paid to a broker is naturally a hurdle to reaching profitability on a trade, so the lowest trading fees will appeal to day traders.
Spread on shares
Without commission, the only trading cost you will incur is 'the spread'. The spread refers to the gap between the quoted buy and sell prices for each instrument. You can only buy at the slightly higher price and sell at the slightly lower price, incurring a cost even if the price of the instrument remains completely flat while you hold the trade open.
Bid & offer spreads aren't an invention of CFD brokers – all public markets have spreads, including the stock market itself.
However, some CFD brokers generate revenue by artificially widening those spreads. So while the member brokers of the London Stock Exchange may see a buy price of £301 and a sell price of £299, a CFD provider may offer its clients a buy price of £303 and a sell price of £297. This would generate an extra £4 in revenue for every position taken, to the detriment of its clients.
Fineco does not add any additional fees to the spread, so the bid and offer prices you see quoted on the Fineco CFD platform are the same as those in the underlying market. Take a look for yourself at how tight the spreads are on a selection of UK share CFDs: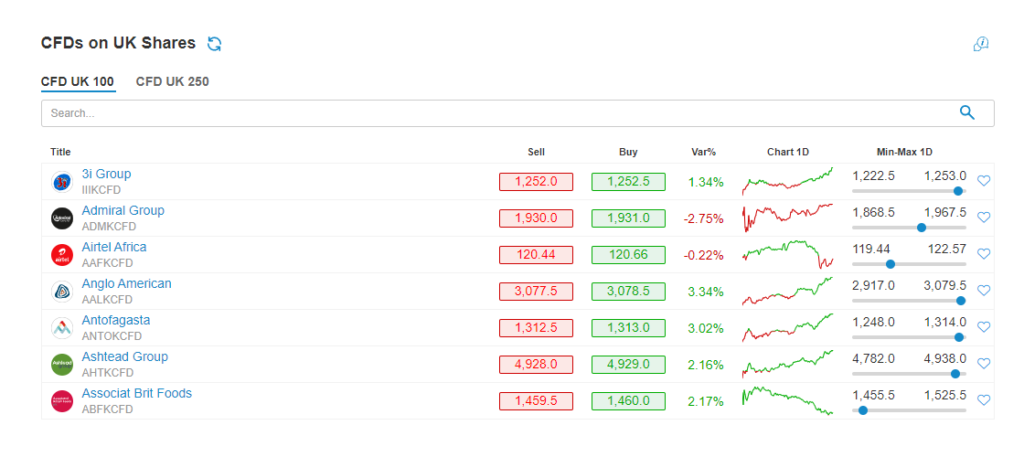 This is why we conclude that Fineco has industry-leading spread rates.
How can Fineco offer such competitive rates? Well, the answer is volume. Fineco claims to process over 45 million trades per year (2021 data).
Fineco also offers relatively tight spreads on equity indices. At the time of writing, Fineco quotes the following fixed spreads on popular indices:
FTSE 100 – 0.6 points
DAX 30 – 0.6 points
NASDAQ – 0.6 points
S&P 500 – 0.6 points
Dow 30 – 0.6 points
Overnight charges
If you hold your trade for longer than a day, you will also incur an overnight fee. This is effectively a fee to account for the cost of the leverage in the size of the trade you have taken. Leverage means financing, and therefore overnight holding fees are usually calculated with reference to an interest rate.
Fineco's overnight fees vary by the direction of your position, and market. For shares CFDs, this is how the exact charge is calculated:
Long non-Euro Traded CFD positions = Mid TOM Next rate (*) of the relevant currency + 2.50%
Long Euro traded CFD positions = Euribor 1m 360 (**) + 2.50%
Short positions = 2.50% (flat)
** Euribor (European Interbank offered rate) is an interbank rate calculated and published daily. It is used as the interest rate at which banks lend money to other banks in the interbank market.
The Euribor and Mid TOM Next rate is a market-driven reference point that will vary each day and therefore we cannot provide an indicative %. Please note that these charges are divided by 365 and applied on a daily basis, rather than being levied annually. They are calculated based on the size of your total trade and not the deposited funds you have committed to the trade.
After conducting a review of the market, we found cheaper overnight rates for short positions as other providers calculate overnight rates on a different basis rather than a flat 2.5% rate. However, this conclusion may change depending on how interest rates move.
Trading platform, live data and charting
Fineco's web platform is straightforward and accessible for first-time users.
We love that the trade execution summary communicates all information necessary to give you confidence before you make a trade. On a trade-by-trade basis, you can also adjust the margin level and order type, giving you control over your exposure to market movements during execution and while the position is open.
If you want to be one of the first traders to take a position if an asset breaks through a pre-determined price level, you can create a conditional order which will automatically fulfil your trade on a price condition being met.
This means you won't have to monitor the market in real-time to take part in market movements that you have anticipated.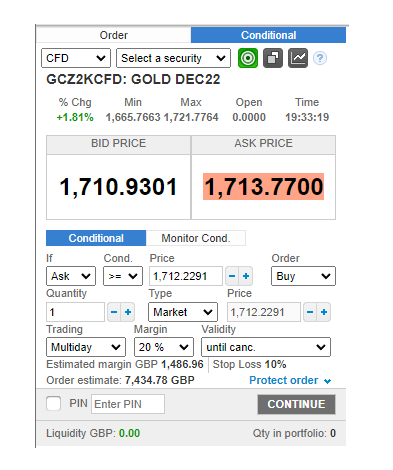 Fineco's charting functionality allows you to analyse historic price information in line or candlestick chart formats with multiple overlays, such as Bollinger Bands, or an exponential moving average line.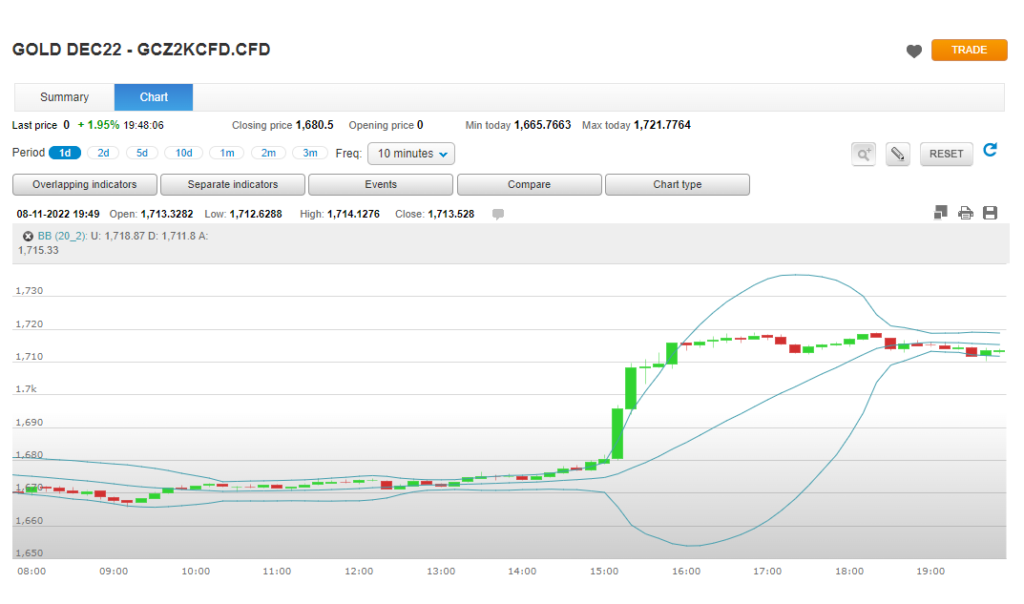 Also, Fineco provides all UK clients with free live price quotes and news for some popular markets including British, US & Italian markets.
We appreciate that Fineco does not force clients to install separate trading software such as MetaTrader 4 to be able to use the CFD trading platform. Trades can be researched, placed and closed through the browser.
Outcomes for clients
At the time of writing (November 2022), we noted the regulatory disclosures made by the largest UK CFD providers about what percentage of clients lose money trading CFDs. A host of factors will influence this percentage, such as the trading experience of their client base, the effectiveness of in-house coaching & education, fees, and the quality of execution.
What % of retail accounts lose money when trading CFDs with these providers?
Fineco – 71.45%
IG index – 77%
CMC Markets – 77%
Trading 212 – 83%
Plus 500 – 84%
Fineco appears at the top of this list of well-known names, which we can speculate is correlated to the low fees and market-only spreads applied to share CFD trades.
Due to trading costs, the odds will always be against a trader making trades in the 'random walk' of the market.
Traders need to be right more of the time than they are wrong to generate a profit, and this value must exceed trading fees to result in a positive net return. This is no easy feat, which is why many traders don't succeed in beating the market.
However, it's useful to see from this semi-scientific analysis that Fineco clients appear to have better outcomes than many larger providers.
These scores move regularly and therefore this data will become historic in future months.
About Fineco
Fineco is the trading name of FinecoBank Banca Fineco SpA; a bank based in Italy. It offers services that cater more to investors and traders rather than consumers & regular savers.
Fineco is one of Europe's largest listed banks. Shareholders of Fineco have done well since the company came to the market eight years ago. Fineco shares were originally listed at €4.14 per share, and they are now trading at €14.18 per share at the time of writing this article. Its ticker symbol is BIT: FBK.
Simply Wall Street, a financial data aggregator, assesses the balance sheet of Fineco as 'strong' and reports that 92% of Fineco's liabilities of made up of primarily low-risk sources of funding. For more analysis of Fineco as a company, visit Simply Wall Street's Fineco assessment.
Fineco CEO Alessandro Foti has been at the helm of the firm as CEO for the last 23 years, as the size of the workforce has risen from under 1,000 employees to approximately 1,300 as at June 2022.
How is Fineco regulated?
FinecoBank S.p.A is registered in Italy. It is regulated by the UK's Financial Conduct Authority, and as a bank, it is also subject to some oversight by the Prudential Regulatory Authority.
However, as a European firm, Fineco is not subject to the same regulatory regime as a UK company offering CFD trading, such as CMC Markets or Plus500.
Fineco falls under the 'temporary permissions regime', which is a stop-gap measure designed for European financial services firms who used to previously 'passport' their services into the UK under a common set of European Union rules.
As the UK has left the EU, such firms will need to eventually seek full authorisation directly from the UK's regulatory body to be able to offer services to UK investors. In the interim period, the FCA asks passporting firms to clearly explain to the clients that they may follow different rules for dealing with complaints and that clients may be entitled to less compensation than a UK-authorised firm.
As a potential client of Fineco, you may want to familiarise yourself with the Italian Financial Services Compensation scheme. This scheme currently offers €100,000 deposit protection in the event of institution failure (per bank) and applies to individual investors.
This is comparable to the £85,000 of deposit protection offered by the UK's Financial Services Compensation Scheme, which will give peace of mind to clients.
Other reviews
FinecoBank UK has received a 4.1 / 5.0 rating on Trustpilot, a respected business rating platform. A rating of 4.3 is classified as 'Great' by Trustpilot. Trustpilot calculate their scores from user-submitted reviews (with a bias towards recent reviews) to reflect the quality of customer experiences and interactions with a business.
Let's now compare this score with those of its competitors:
Plus500 – 4.1
IG Index – 4.1
FinecoBank – 4.1
CMC Markets – 4.3
eToro – 4.3
Trading 212 – 4.6
It is also worth sharing that the Trustpilot page of FinecoBank ITA (which will measure the satisfaction of Italian and international clients) has a far higher sample of reviews and gives a rating of 4.8 or 'Excellent.'
This is almost the maximum score possible under the Trustpilot grading system. Fineco is relatively new to the UK markets and therefore it will take some time for a similar body of reviews to accumulate on the Trustpilot platform under its UK brand.
The Fineco verdict
---
---
The Fineco Bank CFD trading platform has been making waves since this Italian brokerage giant launched in the UK. We rate Fineco as offering the most competitive spreads & fees of any UK-regulated CFD provider, and currently recommend as our #1 rated CFD provider for UK traders.
---
CFDs are complex instruments and come with a high risk of losing money rapidly due to leverage. 71.45% of retail investor accounts lose money due to CFD trading with this provider. You should consider whether you understand how CFDs work and whether you can afford to take the high risk of losing your money.
Commission-free trading of stock CFDs*
Market-only spreads - no added fees
Free live wire news and stock quotes
No fees for inactivity or withdrawals
€100,000 deposit protection scheme
No support for cryptocurrency
Min. short overnight fees of 2.5%
Combination of UK & EU regulation