The long-awaited commission-free investing app from UK stockbroker AJ Bell is finally here! At Financial Expert, we've covered every update and development up to this important date. We've now had the opportunity to put the Dodl app through its paces and we're delighted to share our full Dodl review with you.
---
---
Dodl offers a limited range of low-cost themed and blended funds alongside some UK equities. As AJ Bell's app-only service, Dodl carries accessible language and total fee transparency. Other investment apps provide a wider range of investment options.
---
Range of funds are low cost
Transparent account & fund charges
Themed funds offer variety
Limited range of investment funds
We recommend this app instead:
---

---
---
eToro offers zero-commission trading on shares, and charges no monthly account fee. This makes it best in class for short term traders and investors looking to cheaply build a portfolio of shares or cryptocurrency.
---
Your capital is at risk. Other fees and restrictions apply. For more information, visit etoro.com/trading/fees.
Dodl review

An introduction to Dodl & AJ Bell
Dodl is an investing app that has been designed to appeal to young investors by combining a simple-to-use interface and commission-free share dealing with a playful brand. 
At the same time, we're talking about a product from AJ Bell; one of the UK's largest stockbrokers. So you know it's powered by leading technology and a reliable back-house function.
To learn more about AJ Bell or their mainstream stockbroker offering, check out our AJ Bell YouInvest review.
Why has AJ Bell launched Dodl?
Over the last five years, the investment landscape has changed dramatically. The largest UK stockbrokers such as Hargreaves Lansdown (review), interactive investor (review), and AJ Bell still dominate the industry when measured by assets under management.
However, a generational rift is occurring. New investors are choosing simple & low-cost investing apps instead of turning to financial advisers or full-service discount brokerages.
This has led to the rise of commission-free investing apps such as eToro (review), Trading212 & Free Trade which have together accumulated millions of new users globally.
These start-ups pose a visible challenge to the established order.
Such apps don't offer the same wide variety of investments; they rarely offer a good range of close-ended funds or unit trusts and only allow users to buy the most popular companies. But they're popular, which shows that users are embracing this trade-off.
If you can't beat them, join them. The new Dodl App is AJ Bell's entry into the investing app club.
Dodl review: in detail
We'll now cover everything you need to know about the Dodl app:
What account types are available?
What investments can you choose from?
How much will you pay in fees and charges?
1. Account types
Dodl offer a stocks & shares ISA, a lifetime ISA and general investment account.
Forward-looking investors who are saving for their retirement will be interested in hearing that a Self-Invested Personal Pension (SIPP) option is also be available. 
Users can apply to transfer in their holdings from other stocks & shares ISAs or SIPPs to the Dodl app.
2. Dodl's range of investments
Dodl has launched with a small selection of popular UK blue-chip companies and a selection of hand-picked funds. The Dodl team aspire to add US stocks later in 2022. 
As well as a range of AJ Bell's own multi-asset funds (which operate like one-stop portfolios for many investors), 'themed' investments are also prominent. These include sector funds for robotics, technology and ESG (environmental, social & governance) investing.
In this Dodl review we can publish the full list of funds available via Dodl right now:
UK Top 100
The Home Team
Across The Pond
On The Continent
Going East
Be More Pacific
The Global Climbers
On Top of the World
The Govt's IOU
Lending a Hand
Hey Big Lender
The Worldwide Debt
Big Tech
Full Health
The Building Blocks
The Property Tycoon
The Good Guys
Lending the Way
A Greener World
Robo Revolution
All-in-one (40% shares)
All-in-one (60% shares)
All-in-one (80% shares)
AJ Bell Cautious
AJ Bell Moderately Cautious
AJ Bell Balanced
AJ Bell Moderately Adventurous
AJ Bell Adventurous
The All-in-one funds are multi-asset funds which will provide a one-stop-shop for investors looking for a diversified portfolio of equities and bonds. It appears to be modelled upon the successful Vanguard LifeStrategy Funds.
3. Fees and charges
Assets held in the Dodl app attract a relatively lightweight 0.15% annual charge. This compares to 0.25% charged by AJ Bell for their full-range YouInvest platform. This rate undercuts most UK stockbrokers, although it's more expensive than Etoro, our recommended alternative to Dodl.
Both buying and selling shares will be free, although a minimum trade size may apply.
Purchasing and disposing of fund units will also be free.
Fee-free trading is particularly attractive to investors with small pots. Small sums tend to be hardest hit by the 'fixed price' trading commissions of most online investment platforms. 
For example, even a competitive £6.95 share dealing fee would result in monthly charges that could really add up for a £5,000 investment portfolio.
We expect that other fees and charges could apply, such as foreign exchange commissions, which is a key source of income for other 'free' investing apps.
Taking a look inside the Dodl app
We recorded the screenshots below from the live app, which we stress is still being developed further throughout 2022.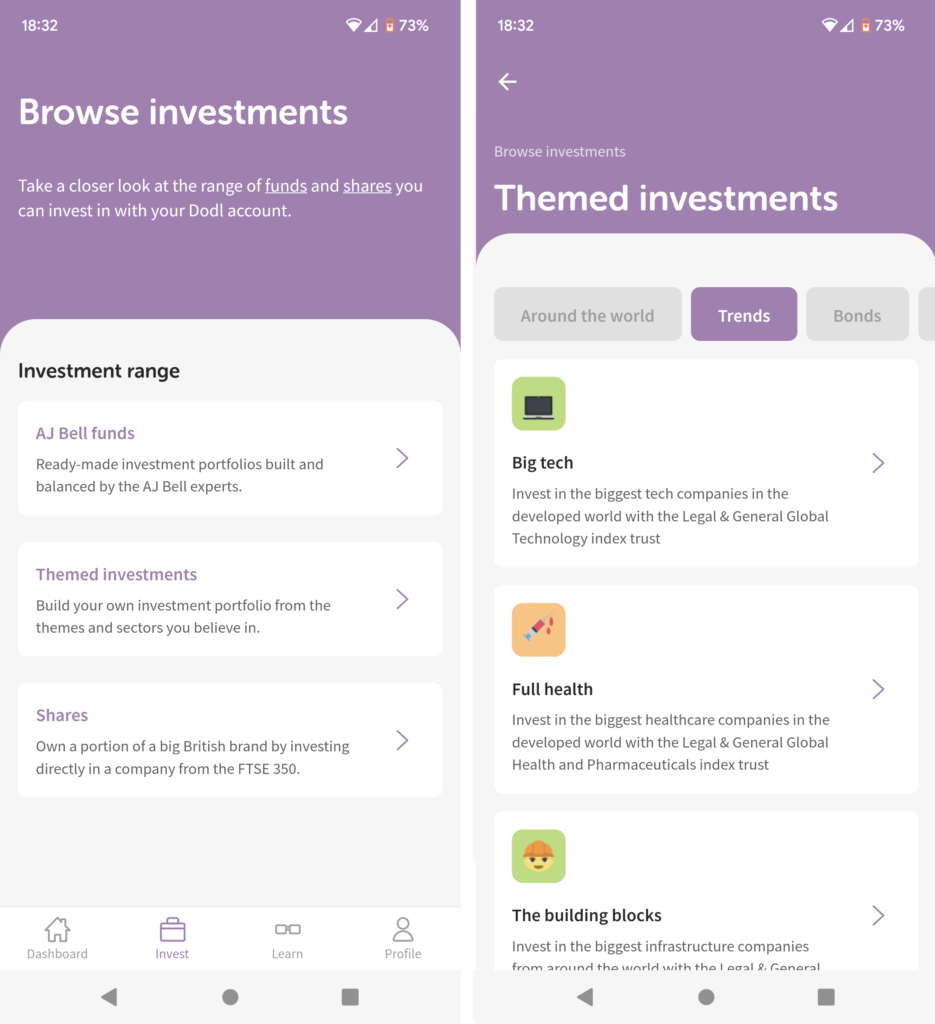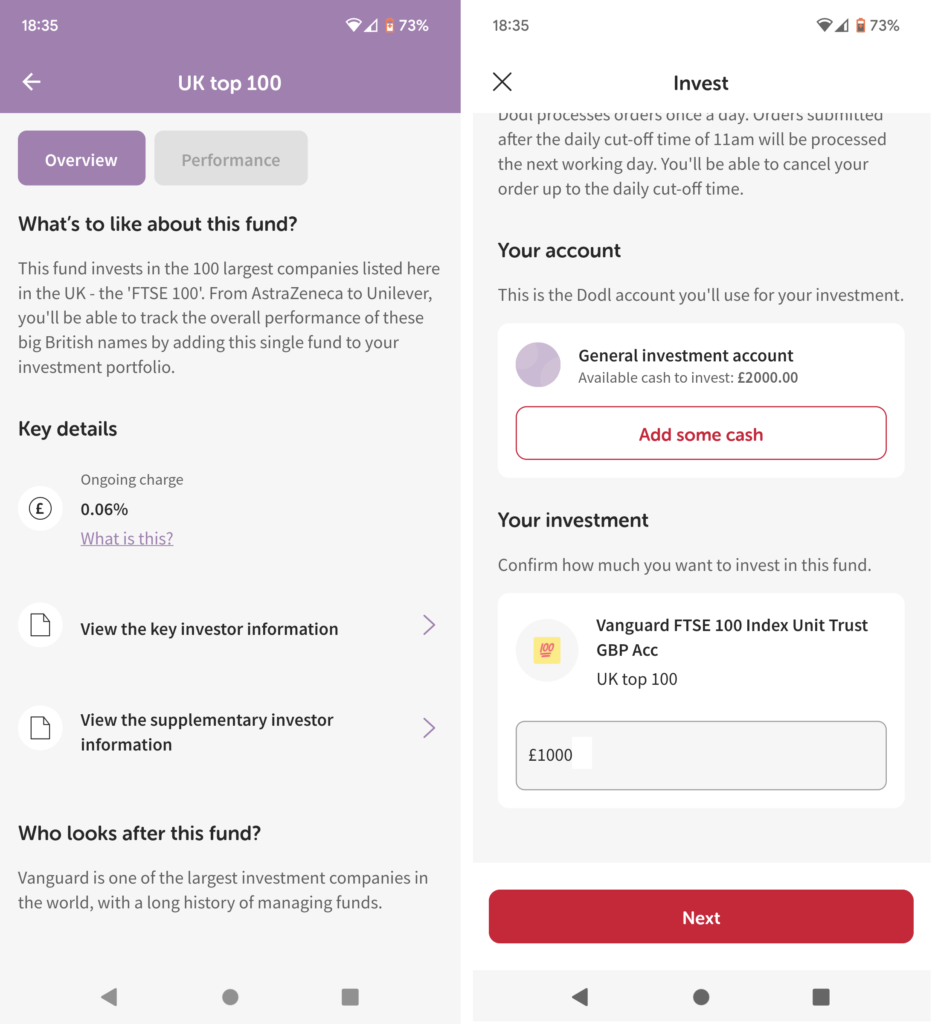 What are our first thoughts from trying the app for the first time?
Sign-up takes less than 5 minutes. 4 minutes is the amount of time it took me to successfully deposit money onto the app after downloading the android version from the Google Play Store. That's the smoothest sign-up experience we've seen on an investing app to date.
Dodl is simplifying investment. Their investment range is grouped by intuitive and user-friendly names like 'UK top 100' rather than the underlying fund name Vanguard FTSE 100 Index Unit Trust GBP Acc. This appeals to casual browsers that may be turned off by technical fund names stuffed with acronyms. Of course, the name of the underlying fund is very clearly set out and is included on all documentation shown to the user before investing).
Say goodbye to too much choice. The limited range of investments to buy on the app is oddly satisfying. As stated above, Dodl is launching with a range of third party and AJ Bell funds, together with select shares from the UK stock market. Compared to many apps, that's a shortlist. However, the curated companies and funds selected are some of the finest examples, and one is left wondering is 4,000 investment options really necessary for most retail investors?
Is a slim offering of investments a bad thing?
The downside of choosing Dodl is the limited range of investment options. If you know what to invest in and want the power to invest in the best companies from around the world, you may be a little frustrated by the lack of choice.
However, a slimmed-down offering can mean freedom for others. Time-poor professionals are sometimes paralysed by choice when picking shares or funds. This can cause them to spend more time out of the market, which will hurt their returns over the long run.
The key to investing well is investing now, rather than holding back and trying to find the 'perfect' investment which is about to take off. This is a completely natural urge, but one that will plague investors rather than inspire them. 
Why we suggest Etoro as a better alternative to Dodl


We have reviewed many of the most popular UK investing apps and stockbroker experiences, and have named eToro as the best stockbroker.
There are plenty of similarities between the two apps. Both Etoro and Dodl offer zero commission dealing and are aimed at novice investors.
Why Etoro beats Dodl at a glance:
A vast range of international stocks (Dodl: zero currently)
Zero account fee (versus 0.15% Dodl asset charge)
Social trading (not available on Dodl)
Cryptocurrency (not available on Dodl)
Smart portfolios (not available on Dodl)
Dodl sign-up offer – will a free share offer be on the cards?
We are still waiting to hear whether the Dodl team is planning to offer a free share or another incentive to encourage users to download the Dodl app and place their first trade.
If Dodl is offering free shares through a referral link or 'refer-a-friend' scheme, this will echo the successful marketing efforts of Freetrade, Orca and Stake who have offered similar deals to attract new users in the UK in 2022. 
Dodl review conclusion
Our Dodl review wouldn't be complete without our concluding thoughts on what type of investor would be a good match for the Dodl app, and which type of investor might be best staying away from the platform.
Dodl is a great match if you are:
Intimidated by jargon-filled fund names
Paralysed by the choice available on some platforms and would prefer a shortlist of quality investments
Planning to hold index funds for the long term
Dodl is not ideal if you:
Wish to build a diversified portfolio of international stocks
Have a specific idea of which fund or fund manager to invest with
Want to add more exotic investments such as gold or cryptocurrencies to your portfolio
The latest news about Dodl
20 April 2022, Dodl is now open to the public and available on the Google Play, Apple Store. We publish our complete Dodl review.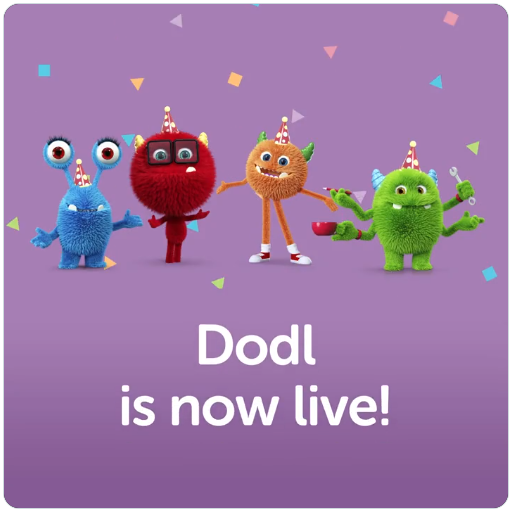 7 April 2022, the Dodl app has now launched as a public beta. This means that the app has been put into the hands of a few lucky investors, who can experiment with most functions of the app (with some elements still under development). The purpose of the beta phase is to extract useful feedback from the testers to further refine the experience.
We are proud to report that we are part of this beta testing, and as such can provide an exclusive first look at the interface and functionality of the app! To get your first glimpse of the app, read our 'beta: first look' section below.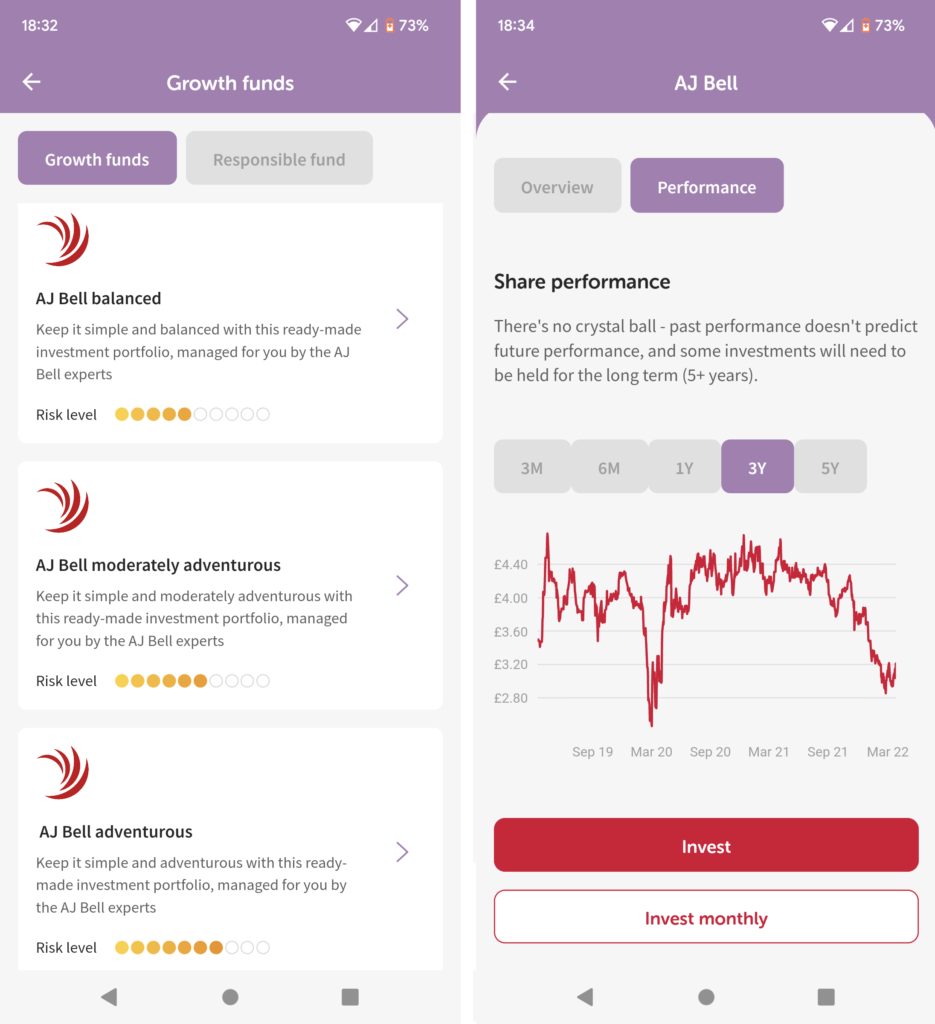 ---
26 February 2022, Dodl have offered a bigger glimpse at the range of investments that will be accessible via the Dodl app. These include:
Shares – 50 individual UK companies comprising part of the FTSE 350 index.
Third-party funds – 23 themed funds, allowing investors to buy units in investment funds specialising in bonds for industries, geographical regions.
Around the world
Trends
Bonds
All-in-one
Responsible
AJ Bell funds – 7 funds branded as 'AJ Bell' funds, managed by AJ Bell's own team of portfolio managers across themes such as Growth and Responsible.
For a full list of funds available, per the latest sources at Dodl, read our full guide below.
---
25 January 2022, the Dodl team provided an update on the development and roll-out of the Dodl platform.
2,000 would-be users have signed up to the email waitlist to be first-in-line when the app goes live
The team is now performing testing on the app to ensure that it's ready for launch
The Dodl team haven't given a specific target date for launch, but you'll read about it here first when that information is public.