Recent statistics have showcased that Forex trading is one of the most popular methods to earn a lot of money online in Australia. The reasons behind such a huge engagement are clear since Forex is the largest market in the world with its size and liquidity, and what's more, the daily trading volume exceeds 6.5 trillion dollars here. Therefore, Australian citizens are actively trying to embark on this opportunity and build a successful trading path in this market which is not an easy task by any means. There are all sorts of procedures you need to carry out in order to accomplish desired results and it is very hard to get positive results without proper skills and education.
The first and foremost task includes choosing a reliable Forex brokerage firm that will assist you to execute trades worldwide. Bear in mind that this is not an easy process and the majority of newbies often become victims of scam platforms, as there are plenty of them online. So, you need to check the legitimacy of the platform and see whether it is licensed by trustworthy regulators or not. Given the fact that novice traders might not have sufficient experience to select the most convenient brokers, there are several intermediate platforms helping them to get the right direction. One of those platforms is called investfox which is a brand-new company established only a few months ago, but it has already gained a vast number of customers so far.
In this article, we would like to point out the 5 most popular Australian Forex brokerage firms according to investfox and show you all their advantageous qualities. The main reason why investfox has decided to recommend these platforms to customers is that they are all licensed by the Australian Securities and Investment Commission, meaning that maximum legitimacy and security are ensured. Moreover, this company has its own methodology in order to pick out the most reliable and high-quality brokerage firms in the Forex market, which we will cover in the later parts of the article.
The list of the five most famous Aussie Forex brokers looks like this – Pepperstone, FP Markets, Avatrade, XM, and Capital.com. We are going to review all of their characteristics in detail and show you why they have become popular in such a huge market. Keep in mind that you have to carefully consider requirements and see whether certain brokers offer everything that will match your needs. However, one thing is clear, the ASIC is a well-known and trusted regulator in this country.
Pepperstone

Pepperstone was established back in 2010 and has maintained enormous popularity to this day. The initial objective of this broker was to create a platform where customers would have the opportunity to execute tech-enabled trading in the global markets, and we have to say that it has served this purpose flawlessly so far. With Pepperstone, you will be able to achieve desired results since they offer fast execution speeds, low commissions, and raw spreads.
You are able to trade more than 700 instruments here including CFDs, Forex, and commodities. What's more, Pepperstone provides the most frequently used trading platforms such as MT4, MT5, and cTrader to its users in order to furnish them with the highest quality. If you become a devoted member of this brokerage company, you will have a chance to take advantage of its VIP services that comprise premium client service and huge rewards for high-volume trading. As you can tell, it is pretty obvious why Pepperstone is one of the best Forex brokers you can find in Australia.
Check Pepperstone review on investfox
FP Markets

The next one on our list is called FP Markets which was launched way back in 2005 and has offered high-quality services ever since in terms of Forex and CFDs. Throughout these years, FP Markets has been awarded the number one Value Global Forex brokerage company several times due to its exceptional services. Apart from the Forex market, this broker also offers CFD trading in commodities, shares, metals, bonds, indices, and digital coins. Also, you can take advantage of more than 10.000 trading instruments here including Iress which was specifically constructed for CFD trading.
FP Markets provide some of the tightest spreads as well as raw pricing in the industry. What's more, with the help of advanced trading platforms, users will be able to experience fast trade executions were there are absolutely no restrictions for scalping and EAs. Most importantly, Everything is transparent with this broker and you will see every offer and every bid through an independent exchange price feed, which once again underlines maximum security!
AvaTrade

AvaTrade is another famous Forex broker in Australia which is somewhat a pioneer since it has been operating in the market for more than 15 years now. The fact that AvaTrade has managed to retain enormous popularity throughout these years indicates that we are dealing with a top-class broker where the highest quality of services is guaranteed. So, it should come as no surprise that nearly 300.000 traders are registered on this platform and they are able to experience more than 1000 trading instruments here including Cryptos, Forex, Stocks, Indices, and Commodities.
Furthermore, AvaTrade offers all the high-class trading platforms such as MT4, MT5, AvaOptions, WebTrader, and AvaTraderGO. You have the opportunity to apply these softwares to every type of device, be it a laptop, smartphone, or tablet. The broker cares deeply for foreign customers as well since the website is available in more than 20 languages and you will come across leverage offerings as well as competitive spreads here.
Check AvaTrade review on investfox
XM

XM was founded in 2009 and quickly gained tremendous popularity among all types of traders worldwide. The current statistics show that XM has more than 5 million registered customers from 190 countries and over 2.4 billion trades are executed on a daily basis here. Therefore, it is pretty clear why this broker has received numerous awards throughout these years and still remains one of the leaders in the Forex market. The first and foremost objective of XM is to provide high-class services to every customer regardless of their account types, net capital worth, or the size of the investment.
You have the opportunity to choose from an array of trading instruments here including Forex, CFDs, indices, commodities, metals, stocks, and energies. What's more, transparency and 100% fairness are guaranteed since there are no hidden terms on the XM platform. Also, there is a wide range of payment methods that are highly secured from any kind of cyber-attacks, so feel free to provide funds here without any worries.
Capital.com

Capital.com is the last one on our list, but it does not mean that this broker offers any-less quality content compared to the platforms mentioned above. Despite being a relatively new brokerage company in the Forex market, currently, Capital.com consists of over 500.000 customers and the daily trading volume is more than 530 billion dollars here. Most importantly, the platform is constructed with a user-friendly interface in order to make life easier for novice traders. There are absolutely zero commissions here and with the help of market-leading spreads, you have a chance to trade on over 6000 of the world's most famous cryptos, commodities, indices, shares, and currency pairs.
What's more, Capital.com offers the industry's leading trading platforms which you can access by all kinds of devices including laptops, smartphones, and even tablets. Hence, this is an excellent resource for traders who are looking for a high-class brokerage firm where maximum fairness and transparency are ensured!
Check Capital.com review on investfox
How investfox ranks forex brokerage companies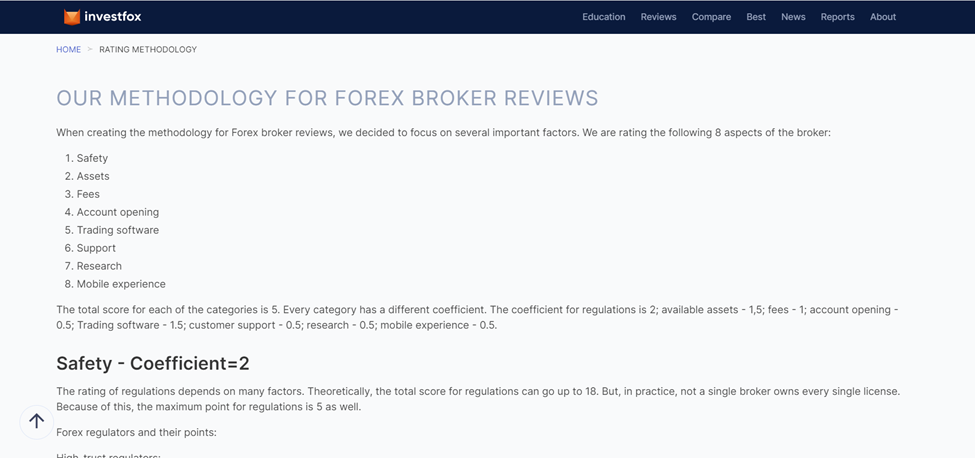 As we have noted above, investfox has its own methods of ranking and choosing the best Forex brokerage firms. They focus on the most significant aspects of this process such as legitimacy, assets, fees, trading platforms, account types, research, support team, and mobile compatibility of certain brokers.
It goes without saying that the safety and legitimacy of brokerage companies are the most important factors. investfox gives maximum points to those brokers that are regulated by those institutions that have the highest reputation in the market. As for the average trust regulators and low trust regulators, investfox ranks them with relatively few points and recommends users go for the best options.
Moreover, the platform observes the available assets of every broker and chooses the best option in case they provide every minor, major, and exotic currency pair. Also, they look at the total amount of pairs and prefer those brokers who provide the highest numbers. The same goes for the other assets as well including stocks, cryptos, and CFDs.
investfox also pays attention to whether brokers include too many fees for withdrawals or deposits as well as other commissions. They give the highest points to those platforms that don't include inactivity fees and where spreads for major pairs start from 0.
Needless to say, every broker should provide various account types in order to satisfy all kinds of traders. So, they rank the top brokers if they include micro, standard, Islamic, managed, and demo trading accounts. Also, the time required for opening an account should be limited!
When it comes to trading softwares, top brokerage firms should provide every major resource including MT4, MT5, cTrader, and users should have the possibility to utilize them with web browsers as well as smartphones. Also, the customer support service team is very important for every broker in order to provide assistance with every available method including live chat, email, hotline, and so forth.
We want to point out that investfox awards the highest points to those brokers that provide different types of educational content such as video guides, webinars, special trading courses, economic calendars, daily market news, and so on. Lastly, according to investfox, every successful broker should include the highest quality of mobile experience on all devices including Android, iOS, and Windows Phone.