Investing in promotional products has been the go-to for many business owners to market their brands. Promotional products are everywhere; even though you haven't experienced distributing one before, you may have received or seen one as a buyer. Many of the best business books suggest using use this strategy to create a bigger impact on their brand and a greater impression on their customers. 
So, suppose you are thinking of a way to market your business in an inexpensive but creative way. In that case, you might want to consider adding promotional products to your business marketing plan.
In this article, you will learn more about promotional products and their effectiveness and impact on your business. But first, what are promotional products?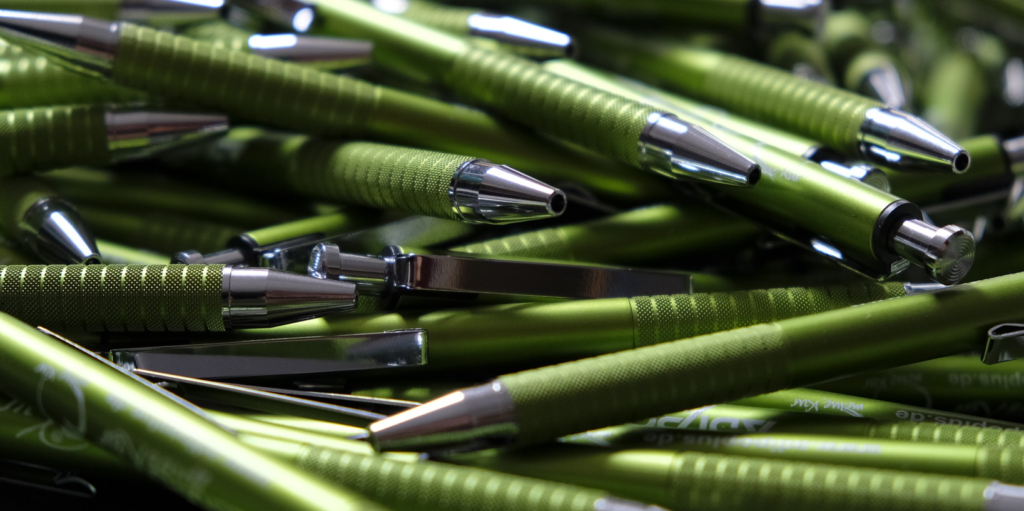 Describing promotional products
Promotional products are widely used by several businesses, whether startups or large organisations run by entrepreneurs. They can essentially be a part of your advertising strategy to build your brand awareness further, generate more leads, and distribute your business to customers.
What can be considered promotional products?
Basically, promotional products are merchandise that businesses give away to their customers for free. These products can be basic items your customers can find useful, such as t-shirts, notepads, mugs, bags, pens, or umbrellas. Anything you could think of can be a promotional item as long as you are creative and can serve its purpose.
Ensure that these marketing products are effective and that your company's brand name and logo are included. Printing services play a major role in ensuring your giveaways are decent-looking and long-lasting. You can customize and design how it will turn out, so use your creativity well.
Nine benefits of using promotional products
Although the advantages of using promotional items to market a business are countless, there are still businesses out there that are reluctant to try this strategy due to budget control. If you are one of those business owners, then you should consider these nine reasons why you should start investing in promotional products:
1. Inexpensive advertising tool
Promotional products are cheap alternatives but are relatively effective compared to other forms of advertising, such as paid promotions on social media. Unlike tangible and practical options like promotional items, customers can easily forget short-lived advertisements such as video ads, posters, or content. They remain convenient and useful, so you can guarantee you get the most out of your price.
2. Unique and creative
Unlike other advertising tools, promotional items are a more unique and creative marketing strategy. For instance, business cards are useful tools for promoting yourself and your company. However, they don't get better impressions and overall results, unlike promotional products. Although they generally have the same information content, a promotional item is more useful and practical.
3. Customization options
As mentioned above, anything you can think of can be a promotional item. You can choose from thousands of options in the market or think of one that's unique and custom-made for your business.
With your imagination as your limit, you can create exceptional outputs based on your business concept and target consumers. Just keep in mind that these products will be given away for free and should serve their purpose of promoting your business.
4. Increase brand recognition
By distributing promotional products to your target consumers and employees, you get more exposure, leading to more potential buyers. You can also use this marketing strategy to feature yourself from competitors by standing out and being unique.
The more people see your company brand and logo, the more people will recognize your line of work. After all, a successful campaign is when the target customers understand and are hooked to your brand.
5. Have a greater value
Compared to other advertising methods, promotional products are more valuable to the customers and your company. These items are what represent your business, and they will be the ones that people will remember.
Your employees and customers who received these gifts will remember who they got them from and their moments during that event. By being remembered, you are sure that your campaign is effective and that every effort and money you invest are worth it.
6. Longer lifespan
Promotional products are built to last longer to serve their purpose of further promoting the business. Since promotional items are generally useful and practical, your consumers will most likely look after them and keep them functional. Not only are you providing them with convenient items, but you are also gaining more exposure and engagement. 
7. Build more engagement
Your company's promotional items are useful and can be distributed to your target consumers and business staff. These products can signify your appreciation towards them and vice versa.
Doing so can remind your employees of the good memories they had in your company and make them appreciate that they are part of your team. Utilizing this marketing tool will strengthen your relationships with loyal customers and employees, further building trust. 
8. Used in various ways
With promotional products, you won't have to worry about gifts to give away for free. Since these items' main purpose is to promote your business, you might consider using them during every company event.
For instance, you can celebrate your loyal customers by giving them free loyalty items or vouchers. Likewise, you can give your employees appreciation or thank-you gifts during a company event or get-together. In short, you can use promotional products in various ways that you see fit.
9. Widely accepted in different industries
Additionally, promotional products are widely used in various industries. For instance, if your business is in line with the education sector, you can distribute promotional items such as pens, notebooks, water bottles, and other related items as long as your company name and logo are included.
Another example is a travel agency. You can provide your clients and employees with keychains, calendars, bags, and other travel accessories with your brand. Although you are free to choose which item you want to distribute, it is best to choose products that speak to your business. 
Step up your marketing using promotional items
Now that you've learned more about promotional products and their effectiveness, it is safe to say that they are worth it, regardless of your line of business. These items' flexibility and affordability can provide great value to business owners like you. By providing unique and quality promotional products, you can rest assured that your target consumers are reached, and greater leads will come your way.